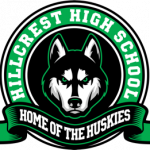 Hillcrest High School
Midvale, Utah
March 11, 2020
***In this Husky Strong Newsletter, you will find the Principal Message, CAYCI Parent Survey, Husky Strong, HHS Social Media, HHS Opening and Upcoming Events***
Dear Parents/Guardians and Students,
Changes are upon us. Starting Monday, March 16th, all physical education classes will be held in our new field house. Our new gym will open up to students and classes on April 13th. The current gym will be dismantled over spring break. These changes will bring new walking routes, changes in student procedures/rules in physical education classes, cleaning out P.E. lockers, increased student parking and a new entrance into HHS off of 9th East. See map in PDF version here.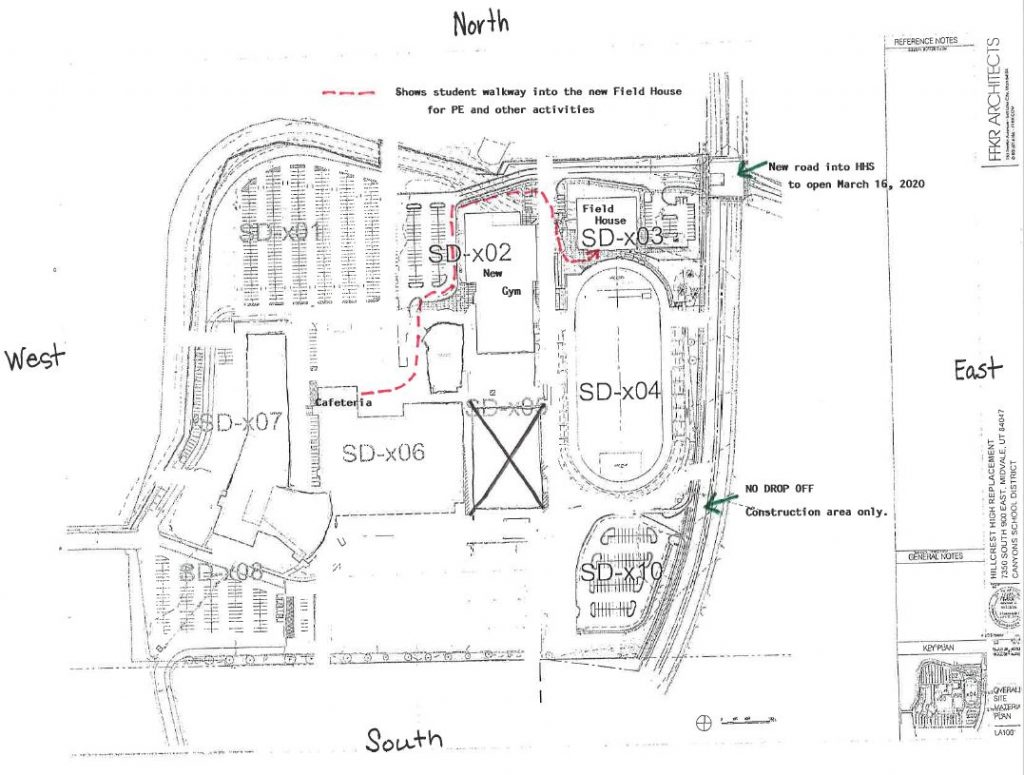 Students will be required to have P.E. lockers cleaned out before the end of day on Thursday. Remaining items left in lockers will be bagged and available for one week before items are donated to shelters.
With physical education classes moving to our new facilities on Monday the 16th, students will need to exit the school in the cafeteria and walk north around the new gym, head east down the sidewalk into the field house. When our new gym opens on April 13th, students will still exit the school using the cafeteria doors and walk north to the gym for physical education classes and other activities.
The Traditional east doors of HHS will only be used to exit during emergencies moving forward.
50 more parking stalls will open in front of the new gym. The back parking lot and the new parking are connected. HHS may now be entered and exited off 9th east. Cars may turn left and right into and out of HHS. The light is on South Union Ave. Patrons and students, starting Monday, March 16th, may enter off 9th east and drive through the property over to 7th east and vice versa.
Students will not be required to dress for P.E. until the new gym and locker rooms are available to use on April 13th. Teachers will still be teaching curriculum concepts and doing light activities, as the students do not have shower access for a few weeks.
Follow Hillcrest High School on Social Media!

Facebook: Official Hillcrest High School
Instagram: @hillcrest.huskies
Twitter: @HillcrestHighSc
SBO Instagram: @hillcrestsbo

Make sure to read the latest news articles and view photo galleries at https://hillcresthuskies.com/
HHS has openings for immediate hire in the following areas:
1 position @ 15 hours/week – Cashier 10:30am – 1:30pm
1 position @ 10 hours/week – Breakfast Aid 6:45am – 8:45am
Those interested, please contact Jan Hansen at jan.hansen@canyonsdistrict.org or
(801) 826-6013
March 11th, FBLA State Competition
March 11th, 2:00pm-7:00pm, Region Theater @ Olympus
March 11th, 3:00pm-6:00pm, Track Meet @ Hillcrest
March 11th, 3:45pm-7:00pm, JVHD/Mini Drill Clinic @ Main Gym
March 11th, 6:00pm-9:00pm, Hillcrest High Mountain Bike Team Meeting @ Cafeteria
March 11th, 7:00pm-9:00pm, SBO Smash Brothers Night @ Small Gym
March 12th, IB Field Trip to UofU Library
March 12th, FBLA State Competition
March 12th, 3:00pm-9:30pm, Drill Year End Show
March 12th, 3:30pm-5:30pm, Boys Tennis @ Skyline
March 12th, 3:30pm-4:30pm, Softball @ Skyline
March 12th, 3:30pm-8:00pm, UHSSA Region Instrument Competition
March 13th, 9:05am-11:20am, Prom Assembly
March 13th, 9:30am-12:30pm, Pre-School Field Trip @ Aquarium
March 13th, 2:00pm-7:00pm, Region Theater @ Olympus
March 13th, 3:30pm-4:30pm, Softball @ Green Canyon
March 13th, 5:00pm-6:30pm, Boys Soccer vs. Cottonwood
March 14th, 7:00pm-10:00pm, Jr. Prom Dance @ The Garden Place
March 16th, IB Art Show @ AT200
March 16th, 3:30pm-5:30pm, Baseball @ Granger
March 17th, 3:30pm-5:30pm, Boys Soccer @ Olympus
March 17th, 3:30pm-5:30pm, Boys Tennis @ Cottonwood
March 17th, 3:30pm-4:30pm, Softball vs Highland High
March 17th, 6:00pm-9:00pm, UHSAA Region Madrigal Festival @ Olympus

March 17th, 6:30pm-8:30pm, HHAA Alunni Association Meeting @ ACR