We are excited to start a new school year with you! Below you will find HHS registration procedures and important dates. We look forward to seeing you soon!
Registration Procedures:
STEP 1: Complete Online Registration
Parents of returning or new students must complete the online application by clicking one of the following links:
NEW STUDENT REGISTRATION or RETURNING STUDENT REGISTRATION. 
If you do not have access to the online registration, please stop by Hillcrest High School August 1st – 5th  or August 8th – 12th between 8:30 am-2 pm, we will have computers available for online registration. 
If you need to have your Family Access password reset, please use the Forgot Your Login/Password option on the login screen or call the school the attendance office at 801-826-6010.
NEW STUDENTS TO CANYONS SCHOOL DISTRICT WILL NEED THE FOLLOWING DOCUMENTS FOR REGISTRATION:
Please bring all items listed below to successfully register your child.
Parent/Guardian Photo ID (for example: work ID, passport, driver's license)
Child's certified birth certificate
Custody Orders/Court Papers/Guardianship- if the child does not live with natural parents
Proof of residency

Lease or Current Mortgage statement (coupon book; closing papers if just purchased)
Utility bill (electric, water, or cable bill – for service within the last 30 days OR connect order if just moved in)
Property tax statement or income tax statement (current year)
Automobile registration or insurance policy (current year/month)
Mail from any government agency (within 30 days)

Immunization records
Withdrawal form and/or last report card, if transferring from another school system
STEP 2: Make an Appointment (new students or class schedule changes)
 New students needing a class schedule must make an appointment with their school counselor after they have completed the online application. You may call the counseling office for an appointment (801-826-6020). 
STEP 3: School Pictures
New this year! We encourage all students to get their pictures taken before the beginning of the school year. Pictures will be taken on August 9th, 10th, 11th, and 12th from 8 am-12 pm.  All students will receive their school identification card after their picture is taken. School identification cards will be needed to access school lunch, school dances, and other school-sponsored activities.
Additional information: 
Parking permits are available in the front office. Students will need the car's registration and driver's license to receive a parking permit.
Free/reduced lunch applications can be submitted online. Lunch application click here.
Students who would like a locker may stop by the Attendance Office to obtain a locker number and combo. Lockers are $5 for the entire school year.
Registration assistance is available in English and Spanish, August 1st – 5th, 8:30 am – 2:00 pm.  For other languages needing assistance, please contact the Main Office at 801-826-6000.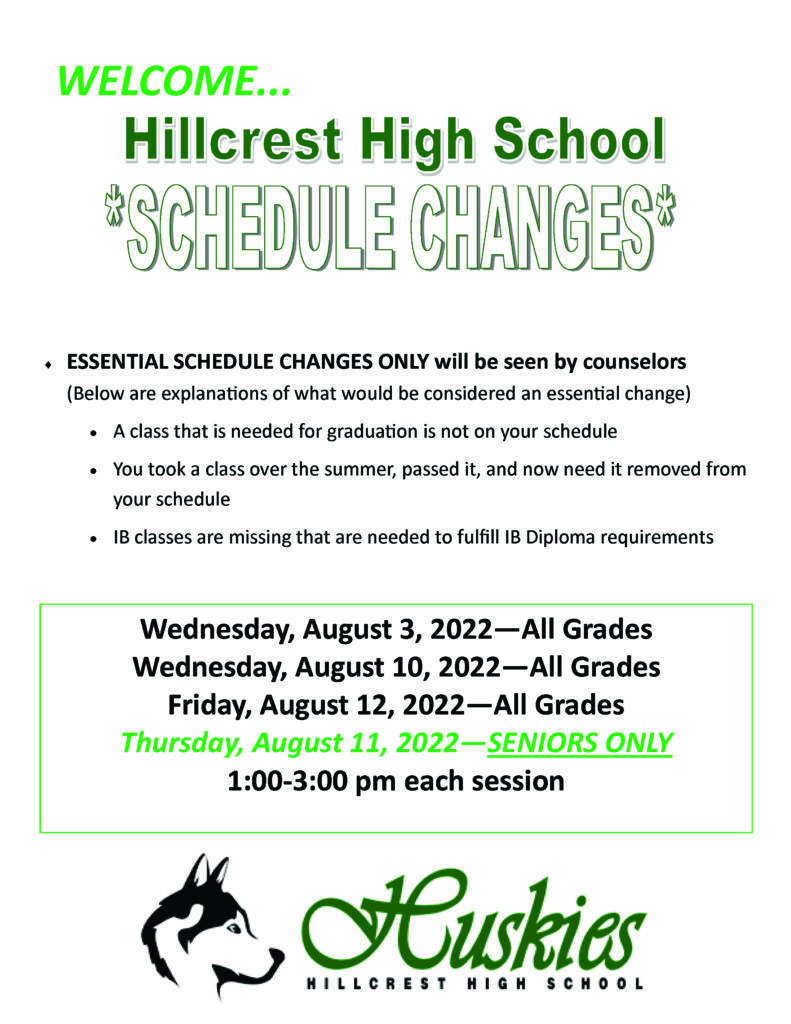 Friday, August 12, 2022, 8:00 a.m. – 11:45 a.m.
FRESHMAN ORIENTATION Watch for more details to come via Skyalert.
Thursday, August 9, 10, 11 & 12, 8:00 a.m. – 12:00 p.m.
August 3, 10, 12 for all grades, 1:00 – 3:00 p.m.
ESSENTIAL SCHEDULE CHANGES ONLY
August 11, 2022, Seniors only, 1:00 – 3:00 p.m.
ESSENTIAL SCHEDULE CHANGES ONLY
Monday, August 15, 2022, 7:45 a.m. – 2:20p.m.
Thursday, August 18, 2022, 5:00 – 7:30 p.m.
SCHOOL PICTURE RETAKE DAY
801-826-6010, 801-826-6079 (para español)
To report a student as absent or tardy
To arrange to check your student in or out of school
To drop off items for your student
Moving in or out of the school
Pick up vacation leave forms, change address or medical instructions
To contact your student
New Student 
Immunizations 
Documentations
Scheduling Questions 
Questions for Counselors 
801-826-6000, 801-826-6079 (para español)
To reach your student's teacher or administrator
Financial Questions  
Please make sure you update your Skylert information during the online registration process to receive notifications.