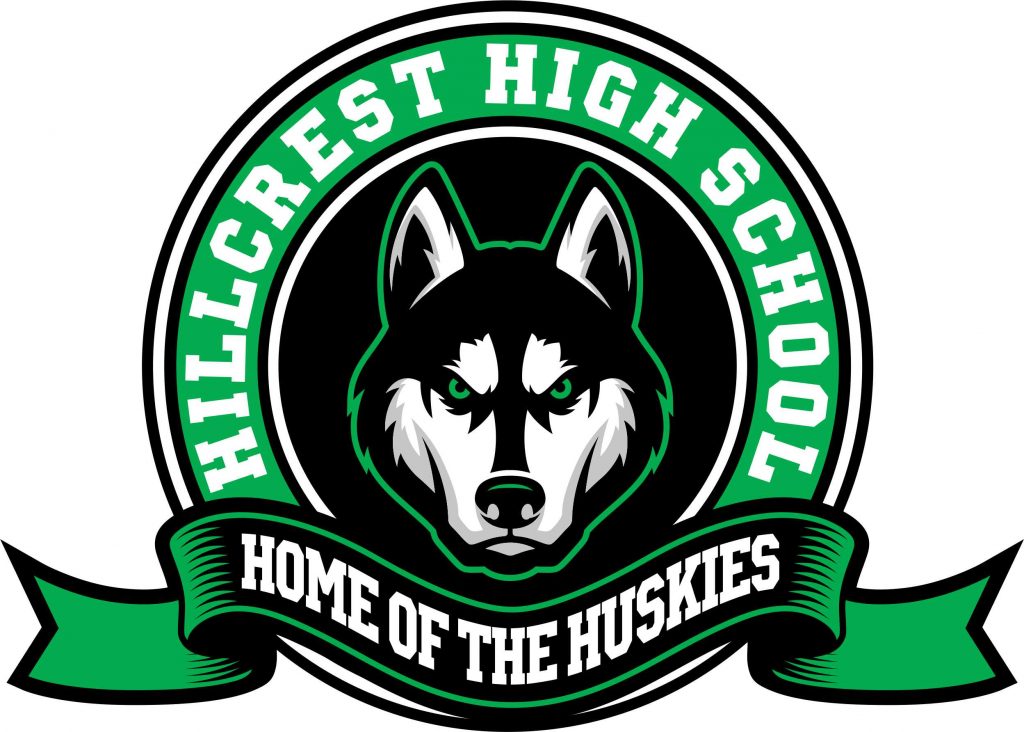 HUSKY STRONG NEWSLETTER:
8/3/22
Hillcrest High School, Midvale, Utah
Welcome Back Huskies! We are excited to start a new school year with you! 
*In this Husky Strong, you will find information about: Key Dates, New Administration, Student Registration, Schedule Change Information, Freshman Orientation, Opening Assembly Schedule, Athletic Calendar, Hillcrest Free Market, and School Pictures*
Principals Message:  Beginning of Year Events
IMPORTANT DATES

Schedule and Events

Monday, August 1-5 & 8 -12, 8:30 a.m. – 2:00 p.m.

Student Registration

Thursday, August 9, 10, 11 & 12, 8:00 a.m. – 12:00 p.m.

School Picture Days

August 3, 10, &12, 1:00 p.m. – 3:00 p.m.

Essential Schedule Changes Only 

(all grades) 

August 11, 2022, 1:00 p.m. – 3:00 p.m. 

Essential Schedule Changes Only

(Seniors) 

Friday, August 12, 2022, 8:00 a.m. – 11:45 a.m. 

Freshman Orientation

August 16, 2022

August 17, 2022

August 18th, 2022

Thursday, August 18, 2022, 5:00 p.m. – 7:30 p.m.

Back-to-School Night

August 19th, 2022

Welcome Back Assembly 

August 19th, 2022, Classes end at 12:03 p.m.

Lunch 12:03 p.m.-12:43 p.m.

Early Out

September 13 & 14, 2022

School Picture Retake Day
Get to Know Our Administration!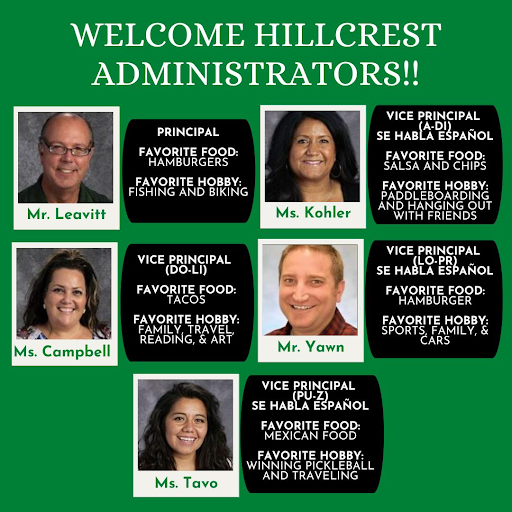 Student Registration
*Please refer to last week's Husky Strong Newsletter from July 28th for registration steps.* Online registration will open for the 2022-23 school year on August 1st  on Skyward.  The process has been simplified, and many families can register entirely online.  Some families, however, will need to come into the school for assistance.  If you need to apply for fee waivers, free or reduced lunch, are a new student or need support using the system, there will be help available. New this year, all students will need to get their school pictures taken before the beginning of the school year. Pictures will be taken on August 9th, 10th, 11th, and 12th from 8:00 a.m.-12:00 p.m. in the school cafeteria area. 
August 1st-5th & 8th-12th  8:30 A.M. – 2:00 P.M. at Hillcrest High School (Located in the CTE Computer Lab next to the Counseling Office)
Spanish interpreters will be available at all sessions.  If you need support in another language, please call 801-826-6000 to schedule an appointment.  Hillcrest High School students who are new to Canyons School District must complete registration in person at Hillcrest on August 1st – 5th. For additional information call Hillcrest High School's main office, at 801-826-6000




Schedule Change Information
ESSENTIAL SCHEDULE CHANGES ONLY will be seen by counselors (Below are explanations of what would be considered an essential change) 
A class that is needed for graduation is not on your schedule 
You took a class over the summer, passed it, and now need it removed from your schedule 
IB classes are missing that are needed to fulfill IB Diploma requirements  
Wednesday, August 10, 2022—All Grades 
Friday, August 12, 2022—All Grades 
Thursday, August 11, 2022—SENIORS ONLY 
1:00-3:00 p.m. each session
Freshman Orientation
Hello, Class of 2026!
We are excited that you will be attending Hillcrest High School and look forward to meeting you during Freshman Orientation on August 12th! This day is all about getting to know the school, becoming comfortable with your class schedule, and meeting your teachers, counselors, and administration. Please come prepared to have your school pictures taken.
 The activities will begin at 7:45 am and finish at 12 pm. Refer to the schedule below for details. Lunch will be provided.
 August 12th: Freshman Orientation Schedule
| | |
| --- | --- |
| 7:45–8:30 | Freshmen arrive at HHS and head to the COMMONS to pick up their schedule and get their school pictures taken. |
| 8:25 | Teachers, admin & counselors head to the BIG GYM to welcome the Freshmen |
| 8:30–8:35 | Freshmen head to the BIG GYM to be welcomed by teachers, admin & counselors |
| 8:35–9:05 | Welcome by Principal Leavitt, SBO's and Counselors |
| 9:15-9:20 | Period 1 |
| 9:26-9:56 | APP: Tour of the building |
| 10:02-10:07 | Period 2 |
| 10:13-10:18  | Period 3 |
| 10:24-10:29  | Period 4 |
| 10:35-10:40 | Period 5 |
| 10:46-10:51 | Period 6 |
| 10:57-11:02 | Period 7 |
| 11:08-11:13 | Period 8 |
| 11:13–12:00 | Pick up a T-shirt and have lunch |
| 12:00 | Busses Depart and Pickup |
School Pictures
New this year! We encourage all students to get their school picture taken on August 9th, 10th, 11th, and 12th at 8 a.m.-12 p.m.  All students will receive their school identification card after their picture is taken. School identification cards will be needed to access school lunch, school dances, and other school-sponsored activities.
Athletic Calendar of Events
Friday night lights are back! Come out to support the Hillcrest Husky fall teams. All tickets will be sold online at hillcresttickets.com #Allpacksunited
Don't forget our Green and White Football Game on August 5th! 
Football ($7 admission)
Aug 5th, 7 p.m. Green and White Scrimmage FREE
Aug 12th, 7 p.m. Carbon High @ Hillcrest
Aug 19th, 7 p.m. Hillcrest @ Viewmont High
Girls Soccer: (Home games played at East Midvale Elementary)
Aug 9th, 6 p.m. Hillcrest @ Juab High
Aug 11th, 6:15 p.m. Hunter High @ Hillcrest
Aug 15th, 3:30 p.m. Hillcrest @ Uintah High
Volleyball: ($7 admission for region games)
Aug 11th, 6 p.m. Hillcrest @ Wasatch High
Aug 16th, 6 p.m. American Fork @ Hillcrest
Girls Tennis:
Aug 9th, 3:30 p.m. Murray High @ Hillcrest
Aug 11th, 3:30 p.m. Jordan @ Hillcrest
Aug 16th, 3:30 p.m. Olympus @ Hillcrest
Cross Country:
Aug 13th, Premier Invite @ Cottonwood Complex
Aug 20th, Ferber Invite @ Fremont High
Boys Golf:
Aug 3rd, Hillcrest @ Tooele
Aug 4th, Hillcrest@ Stansbury
Aug 11th, Hillcrest @ Uintah
Aug 12th, Hillcrest @ Payson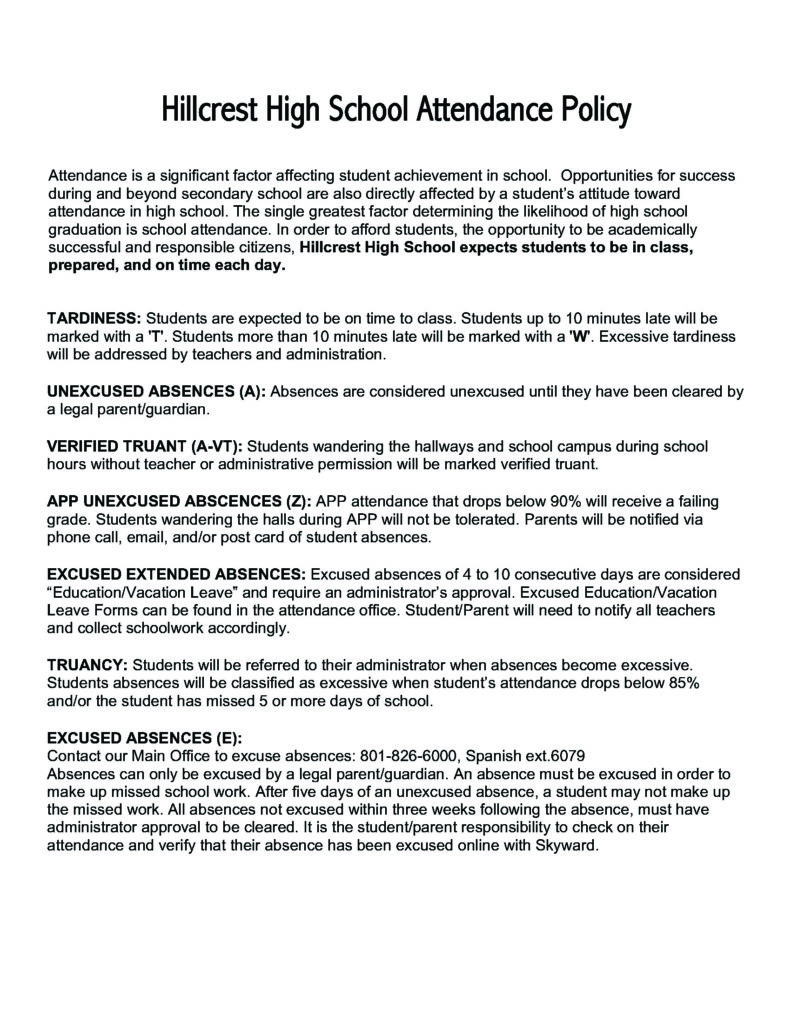 Hillcrest Free Market
The Hillcrest Free Market is open for the school year. This market is located on the first floor of Hillcrest in room A178. We provide free food, clothing, laundry, showers, hygiene products, and school supplies for Hillcrest students, families, and surrounding neighborhoods. We are open before and after school for students and families to shop at our Market. 
We are excited to introduce our new market program this school year. Students and families regardless of income may order a bag of fresh produce, a meal bag with ingredients, and/or a ready order of our market products. 
Every Tuesday 2 p.m.-5 p.m, families and students are able to pick up their orders in the Hillcrest front lobby (near the front office). If you are interested in a meal bag please fill out an order form located in the front office or online: https://bit.ly/HHSFoodBags 
For more information, we will be located in the front lobby during registration 8:30-12 p.m. for sample produce bags. For additional information, you may contact Liz Demke: at lizdemke@gmail.com or Elena (El) Foley at 385-418-9490. Or visit our website https://hhs.canyonsdistrict.org/family-support/ 
PTSA Information 
Parents- We want YOU! Join HHS PTSA and support our students, staff, and families. Do you care about your child's education? Want to know what's happening at school? Want to get to talk to the administration and help make important decisions? Join PTA and Join the conversation.  Become a member today for $7. STUDENTS CAN JOIN TOO!!!    https://hillcresthuskies.memberhub.com/store
Husky Heroes
Husky Hero awards are given each month to two students in each grade who: Make a significant effort to help others, promote school unity, or overcome obstacles and improve themselves in some way.
Do you know a Husky who should be a recognized Hero? Anyone can submit a nomination– faculty, staff, parents, or other students. Nominations should be submitted by the 23rd of each month. Paper nomination forms are available in the main office. Online submissions are at: https://forms.gle/uCwUp2A3za9WRfvg7
Hillcrest High School is looking for volunteers to help serve food at Freshman Orientation on Friday, August 12th, and Back to School Night on Thursday, August 18th. Please sign up if you can help grill hot dogs or serve food. https://m.signupgenius.com/#!/showSignUp/60b054dafad29a20-freshman
Husky Blankets are available! Order yours today – $75 for a super plush two-sided blanket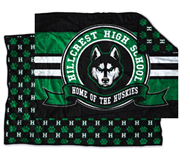 Have questions or comments? Email hhs.huskies.ptsa@gmail.com
PTSA Executive Board
Rebecca Martin, Becca Staker, Chelsea Worth, Stacey Kratz, Kayo Robinson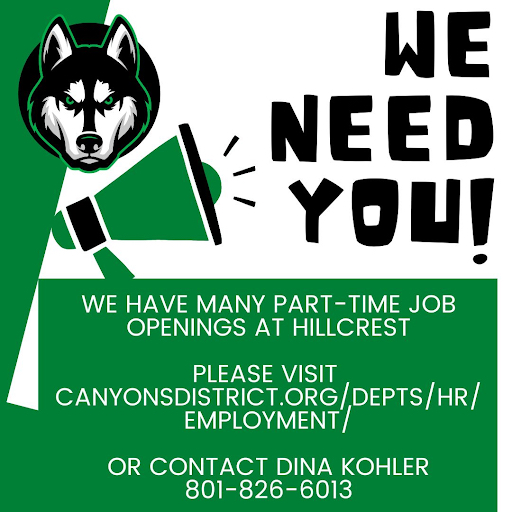 Library Assistant Needed
We are looking for a computer savvy individual who is good with teenagers to work 2-3 days a week in our library. The job involves working with teachers, students, and staff. Friendliness and patience are a must. Love of books is appreciated but not required. Daily responsibilities include; the circulation of library books, Chromebooks, and textbooks; helping to maintain the online catalog; managing student behavior; helping students and teachers find materials; making copies; organizing the library collection; creating library promotions, and many others. We'd love to have you join our amazing team. Please contact Jenny Olsen in the library at  (801) 826-6051 for more information.