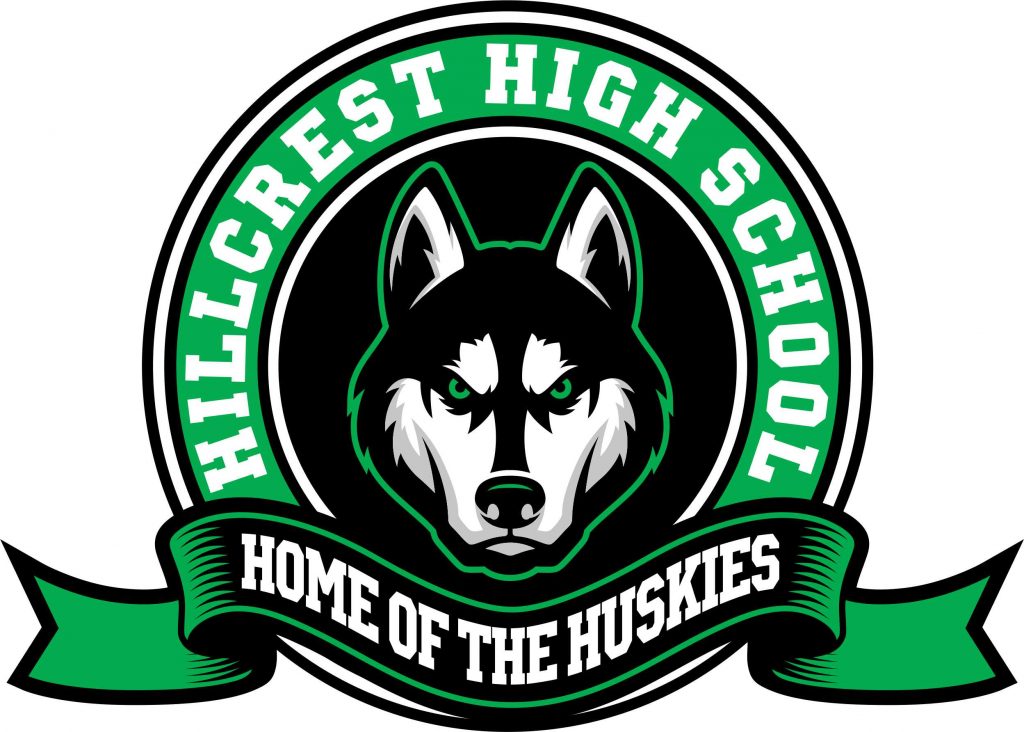 HUSKY STRONG NEWSLETTER:
8/17/22
Hillcrest High School, Midvale, Utah
Welcome Back Huskies! We are excited to start a new school year with you! 
*In this Husky Strong, you will find information about: Key Dates, Husky Shoutouts, Job Opportunities, New Administration, Updated Attendance Policies, Hillcrest Free Market, Pick up/Drop Off, Back to School Night, School Safety*
Keep up with all that is happening at Hillcrest High School. Like us on Facebook, follow us on Instagram (@hillcrest.huskies) and our SBO Instagram (@hillcrestsbo)
Principal's Message: Beginning of Year Events
IMPORTANT DATES

Schedule and Events

August 17, 2022

Click the link above to view the assembly

August 18th, 2022

Click the link above to view the assembly

Thursday, August 18, 2022, 5:00 p.m. – 7:30 p.m.

Back-to-School Night

August 19th, 2022

Welcome Back Assembly 

August 19th, 2022

Classes end 12:03pm

Lunch 12:03pm-12:43pm

Early Out

September 13 & 14, 2022

School Picture Retake Day
We are Hillcrest!
The Hillcrest Theater has its very own Spotify Podcast! Click HERE to subscribe to their podcast or search Hillcrest Theater on Spotify. Join them for behind the scenes of its shows and more!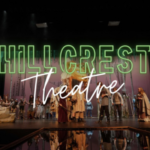 Our very own alumni and assistant drill coach Carter Williams was in the top 6 finalists of Fox's So You Think You Can Dance last week. Check out his finale performance HERE. We can't wait to see where your journey takes you, Carter!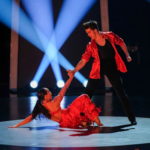 Job Openings at Hillcrest
Sweepers Needed
We are looking for sweepers for the upcoming school year. Students need to be 14 years and older. Shifts are Monday-Friday, 2:30pm-4:30pm. Sweepers are able to work more if they would like, but are not able to work past 5pm. Sweepers do not work weekends or holidays. Pay rate is $10.73. If you are interested in applying, apply at the main office or call/text 801-541-3272.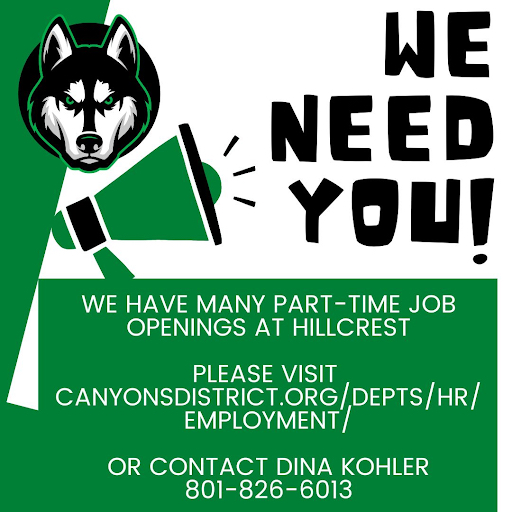 Get to Know Our Administration!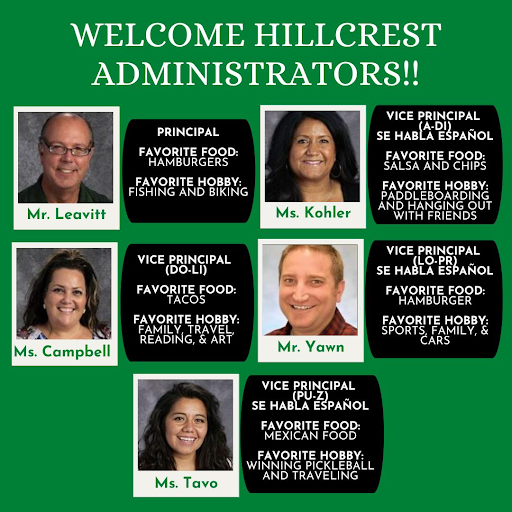 Early Out Fridays
Every Friday in Canyons District will be dedicated to building the bright futures of students through high-quality teaching practices. Starting in August, all Canyons elementary, middle, and high schools will release roughly 90 minutes early on Fridays. When the week's last school bell rings an hour and a half earlier than other days, teachers in all grade levels and content areas will spend the afternoon working in teams to enhance their instruction, strengthen the district-wide core and elective programs, and increase student achievement. Classes end 12:03pm and Lunch is 12:03pm-12:43pm. 
Assemblies this Week
This week our Hillcrest administrators will have met with all students to discuss the importance of rights, respect, responsibility, and safety at our school. Students had the opportunity to ask questions while the administration led a discussion. Mr. Leavitt reminded students of their great worth and that no matter their trials, nothing can change their worth!
School Safety/Inside Threat Training Video
Canyons School District has issued the following video to train students and staff on what to do in case of an inside threat.. https://www.youtube.com/watch?v=JeW2JfZbur8
Pickup and Drop Off
Bus pickup will be in the east parking lot. Parents who choose to pick up/drop off will do so on the west side of the building. Please refrain from using the east side of the building for pick up, this area is reserved for buses and faculty.  
Picture Retake Day
Picture Retake Day is scheduled for September 13th in the Auditorium from 7 am-2:30 pm. If you did not attend picture day or need retakes please attend! 
Student ID for Lunch
Students will need to use their school ID card with a barcode to purchase lunch. Students may use their ID cards are given to them during picture day, a temporary ID, or their ID card found on Skyward. To find their ID cards on Skyward please have the student log in using their skyward login and select ID card. The ID card will contain a bar code that students can use during lunch. 
22'-23' Updated Attendance Policies
HHS supports state and district attendance policies that call for fairness and provide flexibility and accountability on the part of students, parents, and the school. HHS believes school attendance is a student-parent-school responsibility that involves all three entities in order to resolve attendance concerns prior to referring attendance problems to a school mediation panel. High attendance expectations have proven to improve academic achievement, graduation rates, responsibility, respect, school climate, and school safety. Please click HERE for a copy of the attendance policies.
Updated APP Policies
APP provides students with the time and resources to help improve their grades and make up for missing work all during the school day.  Students will receive credits that will help them achieve the necessary credits for graduation.  APP can also help your GPA!  Students can receive an A in the class which will benefit their overall GPA.  However, if a student does not attend APP they will receive an F, which will negatively impact their GPA. Every student needs to sign in every day during APP.  If they are having trouble signing in, or your teacher is not allowing you to sign in, please go see Mr. Anderson (A434) or an administrator so that we can resolve the issue. Click HERE to learn more about APP in the school-wide disclosure
School-Wide Disclosure
Please click HERE for an update 2022-2023 School Wide Disclosure. In this document, you will find updated rules and expectations. 
Dress Code
The Canyons School District dress code has been updated. Please see the district website HERE for more information. 
Hillcrest Free Market
The Hillcrest Free Market is open for the school year. This market is located on the first floor of Hillcrest in room A178. We provide free food, clothing, laundry, showers, hygiene products, and school supplies for Hillcrest students and their families. We are open before and after school for students and families to shop at our Market. We also offer referrals to other community resources including health and social services. 
We are excited to introduce our new market program this school year. Students and families regardless of income may order a bag of fresh produce, a meal bag, and/or a ready order of our market products. 
Every Tuesday 2 pm-5 pm, families and students are able to pick up their orders in the Hillcrest cafeteria (near the front office). To reserve a monthly meal bag please click the link below to order: https://bit.ly/HHSFoodBags 
For additional information, you may contact Liz Demke: at lizdemke@gmail.com or Elena (El) Foley at 385-418-9490.
 or visit our website https://hhs.canyonsdistrict.org/family-support/
PTSA Information 
Parents- We want YOU! Join HHS PTSA and support our students, staff, and families. Do you care about your child's education? Want to know what's happening at school? Want to get to talk to the administration and help make important decisions? Join PTA and Join the conversation.  Become a member today for $7. STUDENTS CAN JOIN TOO!!!  Click the following link for a PTSA membership: https://hillcresthuskies.memberhub.com/store
Have questions or comments? Email hhs.huskies.ptsa@gmail.com
PTSA Executive Board: Rebecca Martin, Becca Staker, Chelsea Worth, Stacey Kratz, Kayo Robinson
Hillcrest 1 Week Calendar of Events:
August 17th

Dance Company Rehearsal in dance Room (2:30-5:30 pm)
Football Practice at Football Field (3 pm-5:30 pm)
Volleyball Practice in Main Gym (3 pm-5 pm)

August 18th

HOSA in Hosting Room (2:30 pm-5 pm)
Shakespeare Team Auditions in Auditorium (2:30 pm-7 pm)
Football Practice at Football Field (3 pm-5:30 pm)
Marching Band in Field House (3 pm-6 pm)
Volleyball Practice in Main Gym (3 pm-5 pm)
Girls Tennis @Cottonwood (3:30 pm-4:30 pm)
Soph Football: Viewmont @ HHS (3:30 pm-4:30pm)
Girls Soccer: Cedar Valley @ HHS (4 pm-5 pm)

August 19th

Welcome Back Assembly
Volleyball Practice in Main Gym (3 pm-5 pm)
Girls Tennis: Skyline @HHS (3:30 pm-4:30 pm)
Football @ Viewmont (KC/DK) (7 pm-8 pm)

August 20th

Cross Country: Freber Invite
Volleyball: Cedar Falcon Tournament
Shakespeare Rehearsals (8 pm-3 pm)

August 22th

Fire Drill (9:15am-10:15am)
Shakespeare Rehearsals (2:30 pm-6 pm)
Football in Presentation Room and Gallery (3 pm-5:15 pm)
Volleyball Practice in Main Gym (3 pm-5 pm)
Girls Soccer @ Stansbury (DK) (3:30 pm-4:30 pm)
Cheer Practice in Aux Gym (6 pm-9 pm)

August 23th

Shakespeare Rehearsals (2:30 pm-6 pm)
Football Practice on Football Field (3 pm-5:30 pm)
Marching Band in Field House (3 pm-6 pm)
Volleyball Practice in Main Gym (3 pm-5 pm)
Girls Tennis: Uintah @ HHS 

August 24th

9th Grade GROWL (APP) in Auditorium (9:07 am-9:44 am)
Shakespeare Rehearsals (2:30 pm-6 pm)
Football Practice on Football Field (3 pm-5:30 pm)
Volleyball Practice in Main Gym (3 pm-5 pm)
Weekly Calendar Community Events:
Each week we will feature community events in Midvale or surrounding areas. Please note, these events are not sponsored by Hillcrest High School. This week: Midvale Car Show, Tyler Library Back to School Event, Salt Lake County Health Department Teen Summit, and Refugee Soccer. Please click HERE for more info.
HHS School Flyers and Events