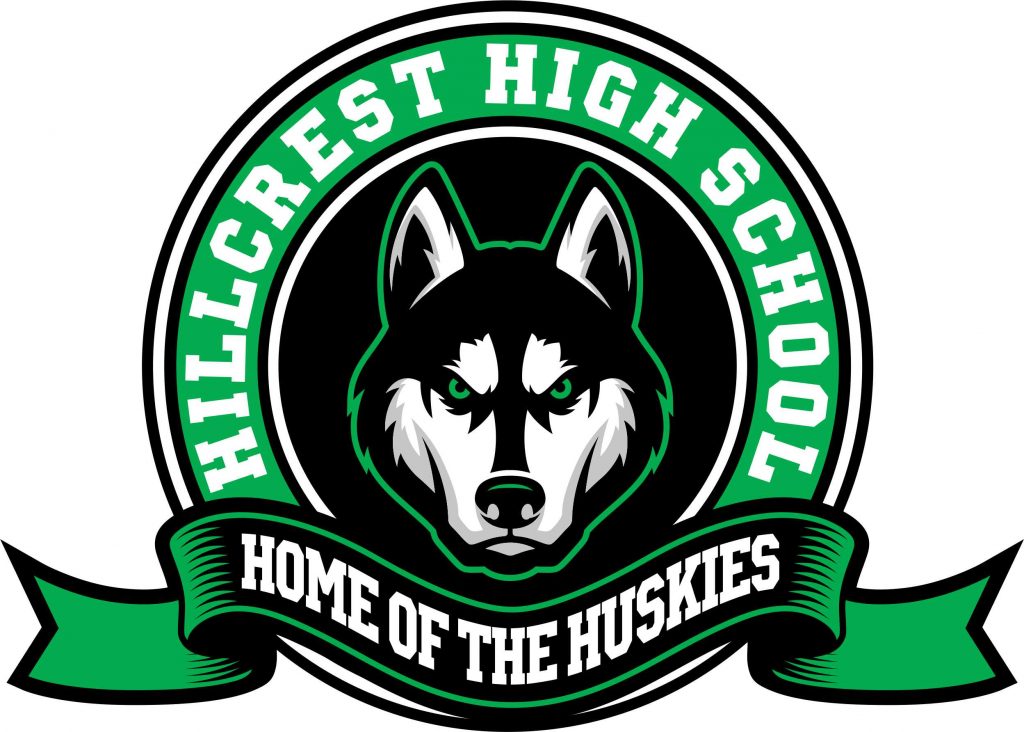 HUSKY STRONG NEWSLETTER:
11/08/2023
Hillcrest High School, Midvale, Utah
*In this Husky Strong, you will find information about: Upcoming Events, School Dress Code, Wellness Fair, Community Schools, PTSA Information, and Flyers *
Keep up with all that is happening at Hillcrest High School. Like us on Facebook, follow us on Instagram (@hillcrest.huskies) and our SBO Instagram (@hillcrestsbo) 
Upcoming Events
| | |
| --- | --- |
| SCHEDULE & EVENTS | DATES |
| Thanksgiving Break (No School) | November 22 – 24 |
To view the school calendar, please click HERE
Congratulations to the Hillcrest Color Guard and Marching Band at the state competition in the 4A scholastic division. Color guard took 2nd place and the marching band finished 4th place overall!
Congratulations to the Hillcrest Color Guard and Marching Band at the state competition in the 4A scholastic division. Color guard took 2nd place and the marching band finished 4th place overall!
Our Hillcrest Culinary 2 class cooking up some delicious food in class!
Community Wellness Fair
November 8th, 5 pm-7:30 pm is our annual community wellness fair! Join us for a fun night of free food, flu shots, childhood immunizations, free student haircuts, and community resources. All are welcome! Free Canes dinner starts at 5 pm.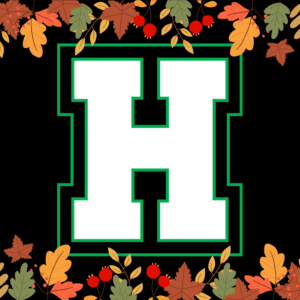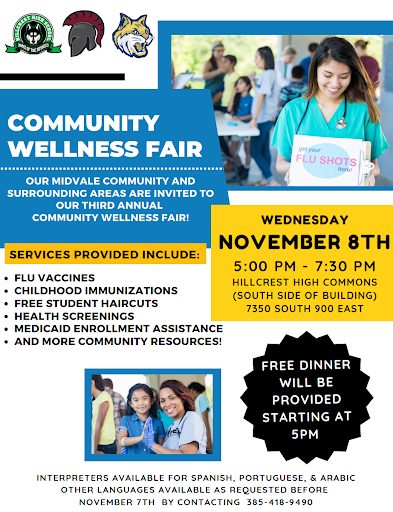 Dress Code
Students and parents, please see the photo below of our dress code. Students shall dress in a manner suitable to the day's activities. Items promoting tobacco, e-cigarettes, alcohol, or drugs will not be allowed. Clothing must cover the body as outlined in the figure below. Please review the full Canyons School District policy found HERE.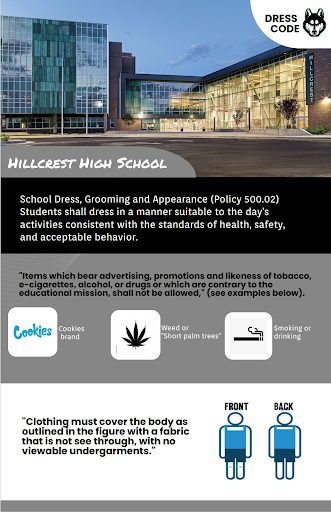 HOSA Blood Drive
Hillcrest HOSA- Future Health Professionals is hosting a blood drive on Monday, November 13th, from 9 am to 2 pm in the Fieldhouse Gallery to honor our Husky Vets. Students who wish to donate blood must be at least 16 years old, and have a state-issued ID and a completed parental consent form. Consent forms are available in the front office, in S106, and from HOSA Members. Adults require no appointment and can walk in. 
Hillcrest Crewnecks
Purchase your Hillcrest crewneck! Pay with Venmo or a card in the Hillcrest Main office. All proceeds go to the Hillcrest SBO Winter Fundraiser. This year's SBO Winter Fundraiser will go towards our Hillcrest Free Market. This market provides food, clothing, laundry, showers, and other resources for Hillcrest students and their families in need.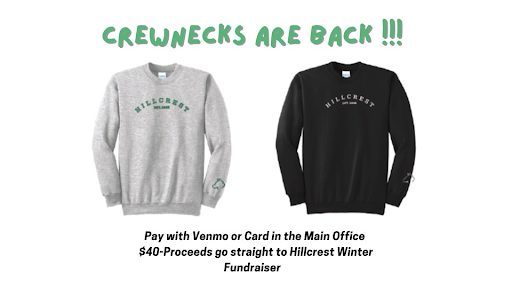 We are a Community School!
THANK YOU to our Hillcrest Seminary for hosting a winter clothing drive for our families! We will be providing winter clothing to our families on the night of our wellness fair, November 8, from 5 pm to 7:30 pm. 
Our Hillcrest Free Market provides food, clothing, laundry, and hygiene products for our students and their families. Students who want to visit the market must check in to student support in A171.
Parents and families wanting to visit the Hillcrest Free Market will need to make an appointment with Liz Demke (elizabeth.demke@canyonsdistrict.org or 801-214-5611). Please be sure to check out our website or on Instagram @hillcrestfreemarket for updates.
We have two more dates for 2023 for our farmers market with fresh fruits and vegetables: November 15 & December 6.
We are in need of spaghetti sauce, pasta, and toothpaste!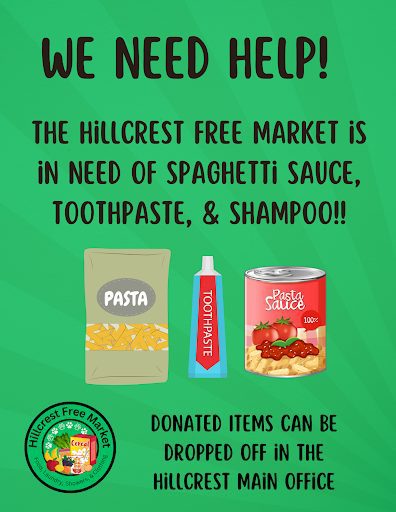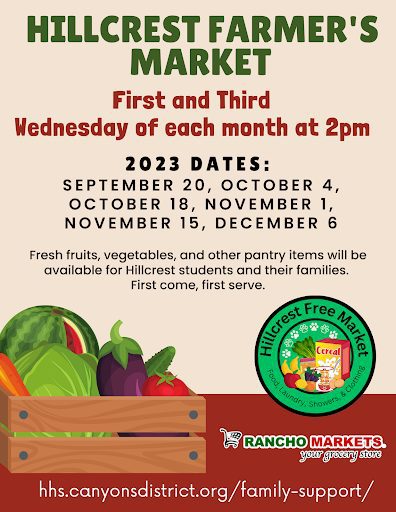 PTSA Information
Hillcrest Parent-Teacher-Student Association (PTSA) is here to serve the families of our school.  
PTSA Student Service Club Meeting-  Thursday, Nov 9th, 2:30 – 3:30 pm in the conference room (across from the counseling center) to come do service!! We're preparing for a Food Drive for the Husky Pantry.
Does your student need service hours or just want to get involved? Students are invited to come to the Student Service Club 2nd Thursdays of the month at 2:30-3:30 in the Conference Room. Click the link below to join and get a reminder about the meeting!
https://docs.google.com/forms/d/e/1FAIpQLScpYiruJxv5vZR9wQMdILcFq0Up9iaSO6LWaNZ7wNqxKBfblQ/viewform?vc=0&c=0&w=1&flr=0
Spirit Night at Habit Burger- Tues, Nov 14th-  Tell that you are with Hillcrest, and they will donate 20% of the proceeds to HHS PTSA!  Cottonwood Heights location.
PTA Student Day at the Utah Capitol- February 8th or 13th, 9:00 am – 1:00 pm.
Students, do you want to know more about how our state legislature works? Students tour the Capitol, meet local legislators, and learn about the legislative process. Meet Utah PTA Forces for Good Award winners, and learn ways to affect positive change in your community. If you are interested in attending, email hhs.huskies.ptsa@gmail.com
HUSKY HERO– Monthly, the PTSA names 2 students per grade as Husky Heroes. They win a prize package, including a Husky Hero throw blanket. **NEW**The 2 Seniors will win a PARKING PLACE for the month near the main entrance. 
Novembers Husky Heroes
Freshman
Sophomore
Junior
Senior
Rebeca De Mateus Khalil
Max Sperry
**Pick up your prize in the Main Office**
Looking for students who help others, are kind, improve school unity, or overcome obstacles. NOMINATE A STUDENT for Husky Hero TODAY!! Anyone can nominate:
https://docs.google.com/forms/d/e/1FAIpQLSc54eg7micj4K4LxvIapJp_IKai1_2JLYCovXOKxWFtUR-gqQ/viewform
JOIN PTSA- don't have time to volunteer but still want to support the school? JOIN PTSA!!  Only $7 
https://hillcresthuskies.memberhub.com/store
Or Drop off cash/check to the Main Office in an envelope with your name and contact info and "PTSA"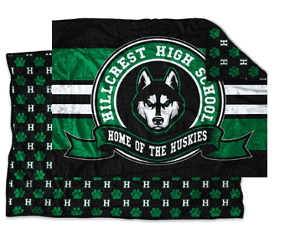 Need a Christmas Gift Idea for your student? Buy them Husky Blankets!  $75 for a super plush blanket. Sports water bottles for $10 and decals for $3 Show your Husky Pride! Want to avoid cc fees? You can purchase in the Main Office using cash/check.
https://hillcresthuskies.memberhub.com/store
PTSA Board 2023-24: Pres- Rebecca Martin, Sec- Becca Staker, Treasurer- Chelsea Worth, VP Membership- Kayo Robinson, and VP Advocacy- Stacey Kratz