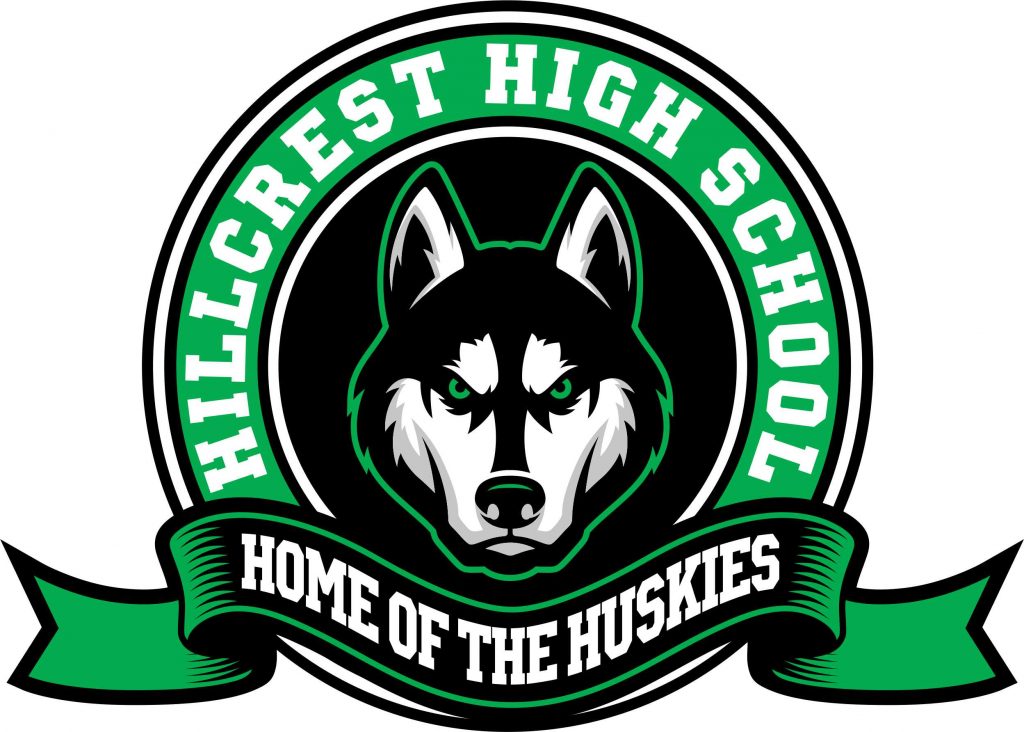 HUSKY STRONG NEWSLETTER:
10/26/2022
Hillcrest High School, Midvale, Utah
*In this Husky Strong, you will find information about: Key Dates, Hillcrest Shoutouts, Parent Square, UCAW, FAFSA Completion Night, Halloween Expectations, PTSA Information, Week of Events, Community Events, School Flyers*
Keep up with all that is happening at Hillcrest High School. Like us on Facebook, follow us on Instagram (@hillcrest.huskies) and our SBO Instagram (@hillcrestsbo)
Upcoming Key Dates
| | |
| --- | --- |
| IMPORTANT DATES | SCHEDULE & EVENTS |
| October 27, 2022 | FAFSA Completion Night for Seniors |
| October 29, 2022 | Husky Howl (Halloween Dance) |
We are Hillcrest
Check out all the Hillcrest Clubs. Click HERE for a list, if interested please reach out to the advisor listed.
Looking for an awesome Christmas Present? Hillcrest High School is now live with a team store for the entire school! This team store is live 24/7 and includes multiple options for anyone looking for Hillcrest gear. It will ship directly to you! Currently there is a 25% discount for our grand opening. Check out the store HERE or see the flier below.
To buy Hillcrest sporting events tickets please click HERE. 
To view live Hillcrest sporting events please click HERE
UCAW (Utah College Application Week)
Monday, Oct. 24, Kick-off Assembly- We had great presentations to our seniors organized by our own Hillcrest Counselor Lisa Gardner from Dr. Brian McGill (Director of Canyons District Student Services), Melissa Baker (School Counseling Specialist), and Shawn Newell (President of Waves Enterprises). We also had a special presentation from our Canyons District Superintendent Dr. Rick Robbins who reminded our seniors to listen, learn, and lead. Thank you to all our guests.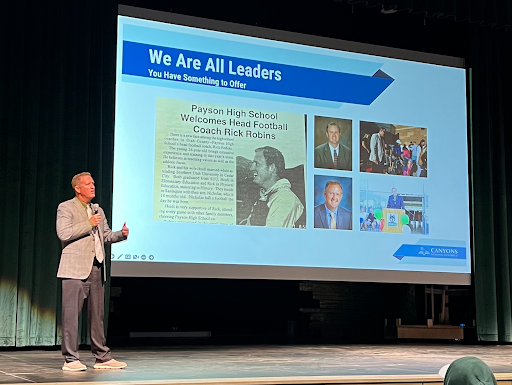 Thursday, October 27 – makeup application day for seniors that were absent Tuesday or Wednesday.
Senior packets through Jostens will be available in the front office for students who were absent on Monday. Please look over the packets to order on Wednesday, November 2, 9 am-1 pm. Senior packets are graduation items that students may purchase for graduation, for example, gowns and caps. 
FAFSA Completion Night Information 
The FAFSA is the Free Application for Federal Student Aid. It is used to determine financial aid eligibility and is required to be completed at all colleges for scholarship consideration. It is strongly recommended that Seniors complete the FAFSA. Hillcrest will host its annual FAFSA Completion night on October 27th from 6pm-8pm. We will have college financial aid advisors available to assist families with the completion of the FAFSA and to answer any questions that you have. Spanish interpreters will be available. You will need to bring the following to FAFSA completion night: A copy of students and parents 2021 tax return, Social Security Cards and your FSA ID if you have completed it. If you have any questions, please reach out to Max Huftalin at max.huftalin@utah.edu or Atiya Nash at atiya.nash@canyonsdistrict.org.
Senior Pennants
What is a senior pennant? New this year, a senior pennant is a FREE flag that will be displayed in the hallway for everyone to see! It will contain your name, Hillcrest logo, and graduation year. At the end of the year, you may take home your pennant for graduation memorabilia. Click the link HERE to submit your name for the FREE senior pennant that will be displayed in the hallway. You must be logged into your csddoc account. We are collecting your email, student number, name, and name you would like on the pennant. The deadline to submit your information is November 11. Please make sure you turn in your information. 

Baby Ads For Seniors Only
Yearbook Recognition Ads are the perfect way to commemorate achievements and celebrate milestones. In addition, revenues from Recognition Ads help our school create a better yearbook. To purchase your ad online, follow the instructions listed below. Jostens is responsible for our school's yearbook ad sales. Please do not contact or send materials to the school. Please also consider our school's ad content guidelines below during the creation of your ad online. All orders must be placed are due December 2nd.
Please click the following link for instructions: Baby Ad Instructions
https://www.jostens.com/yearbooks/students-and-parents/yearbook-ads
Halloween Day and Howl Expectations
On October 29, 2022, Hillcrest High School will have the Husky Howl Dance (Halloween Dance). Tickets will be sold during lunches in the cafeteria. As part of our school-wide efforts to keep students safe, we are requiring students who want to bring a date or friend from another school, to fill out the Guest Request Form.  
There will be provided copies of this form in the main office for students to pick up. Students will be asked to provide a student ID to enter the dance. If students do not provide their ID, they will not be allowed in the dance. Students coming from other schools must bring their ID along with the Guest Request Form. If they cannot produce those, they will not be allowed in the dance. 
Hillcrest students must accompany a Guest. This means the ratio must be 1 Hillcrest student to every 1 Guest Student. No exceptions are allowed.
Students who leave the dance early will not be allowed to reenter the dance. 
School Dance and Halloween Day Dress Code Requirements
For those students who would like to dress up for the Halloween Dance (Husky Howl) or Halloween day, they are more than welcome to, as long as they follow the guidelines listed below. Regular school rules regarding the dress code must be followed.  
No masks and no more than 50% of your face can be painted. NO props, canes, sticks, glow sticks, or weapon-like items of any kind are allowed. No fake blood or other substances that will spill or cause a mess will be allowed.
Students may not wear anything suggestive or provocative in nature. No underwear as outerwear will be allowed.
Nothing that promotes the use of illegal substances or activities, derogatory or disrespectful, or portrays violence.
Students must show respect to other students by not touching, defacing, or insulting other students' costumes.
Students must show respect for others by not choosing costumes that are insensitive and/or offensive to the diverse backgrounds represented by others at our school.
BE RESPECTFUL AND RESPONSIBLE!
Anyone who does not follow the Halloween Dance Dress Code will be subject to the dress code violation consequences or further disciplinary action such as a call home for a change of clothing, no admission into the dance, or removal from the dance. If you or your student have questions on whether their costume follows the dress code, please reach out to the Assistant Principal over your student. Please make every effort to keep this Dance fun and safe for all students. 
Students who do not comply with our school and dance guidelines will be subject to removal from the dance and unable to participate in future dances. We are looking forward to a fun dance with you Huskies!
Hillcrest Wellness Fair
On November 10th, 5 pm-8 pm, Hillcrest High School will be hosting its second annual Community Wellness Fair in the Hillcrest Commons (near the front office). There will be over 30 community organizations including flu vaccines, free haircuts, health screenings, prizes, cooking demonstrations, and medical and social service resources. We will be having interpreting services for the following languages: Spanish, Portuguese, Arabic, Pashto, and Kinyarwanda. We will be serving Canes Chicken dinner to the first 300 people at 6 pm! Thank you Canes! Join us for a great and informative night. Please see the attached flier at the bottom.
Internet Safety
Every year, all students are instructed to keep their internet use safe and use online etiquette. In order to use district-supplied technology devices and gain access to the district's computer network, all students of Canyons School District are required to sign the acceptable use agreement. This documents the user's understanding of and willingness to comply with district policies. Access to school and district networks and digital resources is a privilege. Any user who is found to be in violation of the guidelines is subject to disciplinary policies.
Filtering Information:
Canyons School District uses the Content Keeper content filtering system
We have different rule sets for elementary and secondary schools so that we can allow some sites in secondary schools without allowing them for elementary schools
This filter works by categorizing known internet content and then allowing us to block inappropriate categories such as pornography, social networking, gambling, weapons, adult content, gaming, etc, and are blocked on the student network.
Please note that the filtering system only works on Canyons District networks and can change based on a student's use of a home or other network.
If parents and guardians are interested in learning more about their students' technology filters please see the following website:https://www.canyonsdistrict.org/safe-schools/internet-safety-and-digital-citizenship/
PTSA Information
PTSA Info for Husky Strong
Congratulations to our Husky Hero Winners for October
Freshman: Mi Yun Grayson & Leilani Ramirez
Sophomores: Jacob Roy & Steven Hoskins
Juniors: Mia Mancera & Aubrey Colson
Seniors: Alexis Maulden & Michkat Abderahim
Thank you for making a difference in our Husky community! Please stop by the main office to pick up your gift bag. We want to thank Classic Fun Center, Chick -fil- a , Zao, Chipotle and Allstar bowling for their support.
Do YOU know who would be a good Husky Hero? Hillcrest PTA recognizes 8 students each month as Husky Heroes.  Nominate someone today by clicking on this link!
Online submissions are at: https://forms.gle/uCwUp2A3za9WRfvg7
Reflections Art Contest DEADLINE FRIDAY OCT 28th!
The theme is "SHOW YOUR VOICE." Start working on your entries in the following categories: 2D Visual Art, 3D Art, Dance Choreography, Film Production, Literature, Photography, and Music Composition. (There is even a category for special needs artists).
Deadline October 28th – SUBMIT ENTRIES ONLINE!!!!
Check out www.utahpta.org for more information.
PTSA Student Service Club – "Spread Kindness" Activity on Tues Nov 15th
Join us 2:30 pm in the Conference Room to write notes of kindness to and put them around the school. Spread some happiness and love! Treats for all who come!
Looking for a Holiday gift?? Order a Husky Blanket!
Husky Blankets for sale!  $75 for a super plush blanket. Show your Husky Pride!
Also for sale- sports water bottles for $10 and decals for $3
https://www.successfund.com/hillcrestptsa/store
Did you know you can purchase in the Main Office using cash/check (and avoid cc fees).
JOIN PTSA
Did you know that only 200 Hillcrest parents have joined PTSA this school year???? WE NEED YOU!
JOIN Hillcrest High PTSA and support the parents, teachers, and students!  Only $7 
https://hillcresthuskies.memberhub.com/store
Or Drop off cash/check to the Main Office in an envelope with your name and contact info and "PTSA"
We love serving you and our school but we need more parents!
PTSA Board 2022-23: Pres- Rebecca Martin, Sec- Becca Staker, Treasurer- Chelsea Worth, VP Membership- Kayo Robinson, VP Advocacy- Stacey Kratz
Hillcrest 1 Week Calendar of Events:
October 26

UCAW College Applications (12th Grade English Classes)
Drill Practice in Main Gym (6 am-7:30 am)
Lifetouch Retakes in Auditorium/Stage (7:15am-1:30pm)
UPFH Vision Clinic in Presentation Room (8 am-3 pm)
Musical Rehearsals in Aud (2:30 pm-5:30 pm)
Pit Orchestra Rehearsal (2:30 pm-5 pm)
Baseball Open Gym in Fieldhouse (3 pm-5 pm)
Football Practice at Football Field (3 pm-5 pm)
Volleyball Practice in Main Gym (3 pm-5 pm)
Girls Soccer Banquet in Gallery (5 pm-9 pm)
Softball Open Gym in Fieldhouse (7 pm-9 pm)
A Quiet Place Fundraiser – ASL Club – Presentation Room Commons (6 pm-8:45 pm)

October 27

UCAW College Applications in Career Lab
Baseball Weights in Weight Room (6 am-7 am)
Cheer Practice in the main Gym (6 am-7:30 am)
Columbia College Visit in Presentation Room (IB) (9 am-10 am)
French Club in Presentation Room (12 pm-3 pm)
Boys Basketball in Weight Room (2:30 pm-3:30 pm)
HOSA in Hosting Room (2:30 pm-5 pm)
Musical Rehearsals in Aud (2:30 pm-5:30 pm)
Volleyball Practice in Main Gym (3 pm-5 pm)
UCAW-UHEA FAFSA Completion Night (4 pm-9 pm)
Fin. Aid Night P/T in Career Center (5 pm-8 pm)
Band Bash with Midvale middle in the main Gym (6 pm)
Boys Soccer Open Gym in Fieldhouse (6 pm-10 pm)
French Club Halloween in Presentation Room (6 pm-8:30 pm)

October 28

Drill Practice in Main Gym (6 am-7:30 am)
Theater Photo Shoot in Fieldhouse (1 pm-3 pm)
Musical Rehearsals in Aud (2:30 pm-5:30 pm)
Pit Orchestra Rehearsal (2:30 pm-5:30 pm)
UNICEF Unite Club Meeting in Presentation Room (2:30 pm-3 pm)
Volleyball Practice in Main Gym (3 pm-5 pm)
Music Department Halloween Social in Gallery (5 pm-9:30 pm)

October 29

Drill Practicum in Main and Aux Gym (9 am-3 pm)
Girls Soccer in Fieldhouse (9 am-11 am)
Softball Open Gym in Fieldhouse (11 am-1 pm)
Baseball Open Gym in Fieldhouse (1 pm-3 pm)
Husky Howl (7 pm-10 pm)

October 31

Drill Practice in Main Gym (6 am-7:30 am)
Health Presentation in Presentation Room (11:30 am-1 pm)
Boys Basketball in Weight Room (2:30 pm-3:30 pm)
Musical Rehearsal (2:30 pm-7 pm)
Girls Basketball Open Gym in Aux Gym (3 pm-4:30 pm)
Middle School Volleyball in Main Gym (5:30 pm-7 pm)
Cheer Practice in Aux Gym (6 pm-9 pm)
Softball Open Gym in Fieldhouse (7 pm-9 pm)

November 1

Junior PCCR's in Counseling Offices
Baseball Weights in Weight Room (6 am-7 am)
Drill Practice in Main Gym (6 am-7:30 am)
HHS Farmers Market in Commons (2 pm)
Musical Rehearsals (2:30 pm-7 pm)
Swimming: West Jordan @HHS (Gene Fullmer Rec) (3:30 pm-4:30 pm)
Boys Soccer Open Gym in Fieldhouse (6 pm-10 pm)
Boys Basketball Open Gym in Main and Aux Gym (7 pm-9 pm)

November 2

Cheer Practice in Main Gym (6 am-7:30 am)
Jostens Graduation Order Day (8 am-2 pm)
Senior Green Sheet in Senior English Classes 
College Visit (IB) Embry Riddle University in Presentation Room (9 am-10 am)
IB End of Quarter Treats – Outside IB Room during both lunches (11 am-12:45 am)
Boys Basketball in Weight Room (2:30 pm-3:30 pm)
Musical Rehearsal (2:30 pm-7 pm)
Baseball Open Gym in fieldhouse (3 pm-5 pm)
Drill All-State Competition in Main and Aux Gym (3 pm-10 pm)
Region Fall Coach Meeting – Cedar Valley HS (6:30 pm-8 pm)
Softball Open Gym in Fieldhouse (7 pm-9 pm)
Weekly Calendar Community Events:
Each week we will feature community events in Midvale or surrounding areas. Please note, these events are not sponsored by Hillcrest High School. This week: Midvale City Halloween and Service Project, Tyler Library Events, Boys and Girls Club, & Affordable Connectivity Program. Please click HERE for more info.
HHS School Flyers and Events