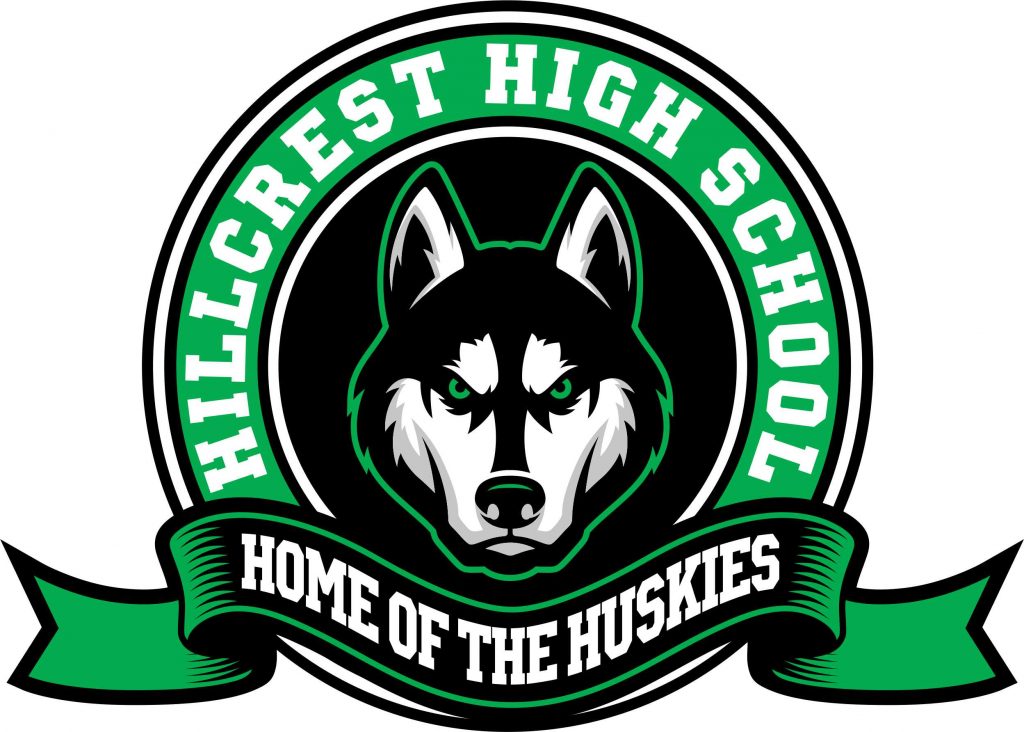 HUSKY STRONG NEWSLETTER:
02/08/2023
Hillcrest High School, Midvale, Utah
*In this Husky Strong, you will find information about: Valentines Day Dance, Arena Scheduling, APP/Attendance, PTSA, Community School Info, and Calendar of Events *
Keep up with all that is happening at Hillcrest High School. Like us on Facebook, follow us on Instagram (@hillcrest.huskies) and our SBO Instagram (@hillcrestsbo)
Upcoming Key Dates
| | |
| --- | --- |
| IMPORTANT DATES | SCHEDULE & EVENTS |
| February 11, 2023 | Sweethearts Valentine Dance |
2023-2024 Next School Year Arena Scheduling Closes February 14
THE WINDOW TO COMPLETE COURSE REQUESTS IS FROM JANUARY 31, 2023 – FEBRUARY 14, 2023. Please see the school's website for specific details regarding course requests to include the schedule of when and where counselors will be in the classrooms, course selection cards, and instructions to add courses into skyward.  For more information click HERE.
APP Class
The purpose of APP is to provide an opportunity during the school day for students to receive added support from their current teachers. APP is an attendance-based class. Students MUST attend APP to receive credit/grade. The grade earned in APP does affect your GPA. 
Please be aware that teachers may have different rules for accepting APP passes. Students may not be wandering the hallways without an APP pass. Please note students are not allowed to go to another APP class if they have a substitute teacher.
Thank you for your help in reminding students to attend APP. 
Attendance and Doors Updates
All teachers have been asked to send students that are late to class to the attendance office to check-in. Students sent down to the office will receive a check-in slip and turn it into their teacher. Side doors will be locked 
Our hope is that by sending students to check-in we will keep our hallways safe and clear. We will also be able to identify and provide additional support to our chronically late, truant, and absent students. Let your administrator know if you have any questions or concerns. 
Please be aware that we will be locking all the exterior doors at Hillcrest except the doors at the main entrance (west side) during the school day.
Doors will open five minutes prior to a class change and lock again after the tardy bell. The doors will also open for both lunches.
We ask that all enter the school through the main doors on the west side of the building.
During school hours, All visitors are required to check in at the main office and receive a visitor badge to be able to walk through the building.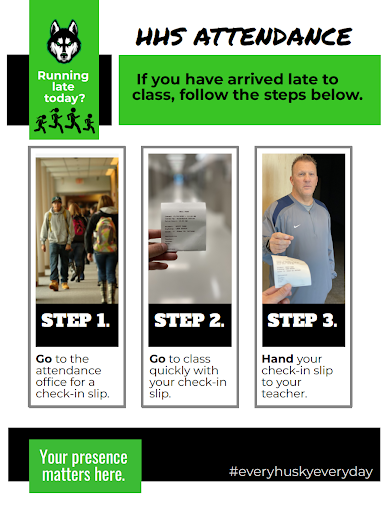 Blood Drive
Every day approximately 32,000 units of blood are used across America. One whole blood donation can save the lives of up to three people!
Hillcrest HOSA and the Red Cross Club are hosting an ARUP blood drive Monday, February 13th from 9 am to 2 pm. Click HERE to make an appointment! We would like to invite you to donate. Students who wish to donate blood must be at least 16 years old, have a state-issued ID, and have a completed parental consent form. Consent forms are available in room S106. To check donor qualifications please click HERE. We have over 60 appointments available! Please help us make this our most successful blood drive yet.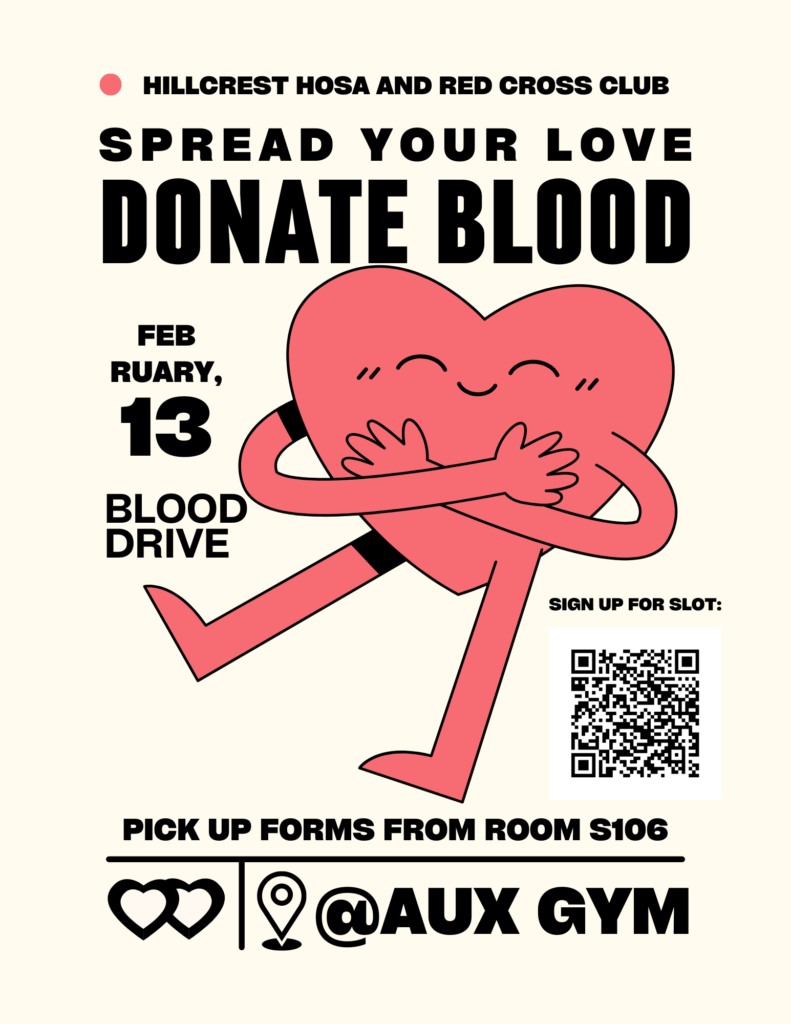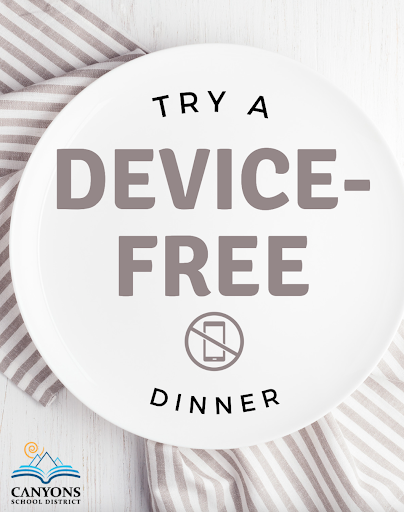 Digital Citizenship
Try planning a device-free dinner! Taking a break from devices is proven to have positive benefits for kids, from better nutrition and focus at home to fewer problems at school. Learn more about the benefits of device-free dinners at commonsensemedia.org/device-free-dinner.
February is Career and Technical Education Month
Taking Career and Technical Education classes in high school is an important key to the future success of your student. C.T.E. provides the opportunity to explore a variety of career areas that will equip your student with the academic knowledge and technical skills needed for entry into a global workforce.  For a list of C.T.E. classes offered at Hillcrest High School visit: hhs.canyonsdistrict.org/cte/

Sweethearts Dance
Our annual Valentines sweethearts dance is on February 11th 7pm-10pm at Wheeler Farm. Tickets will be available at both lunches on January 30 – February 10 or at the door at the dance. Couples cost $30 and Singles cost $20 at lunch but will increase $5 at the door. 
Traditionally this is a girl ask boy dance. We would like all students to feel welcome whether you are flying solo or going as a group or couple. This is a semi formal dance. If you would like to bring a guest please get a guest form from the front office or when tickets are sold. Guests must be high school aged.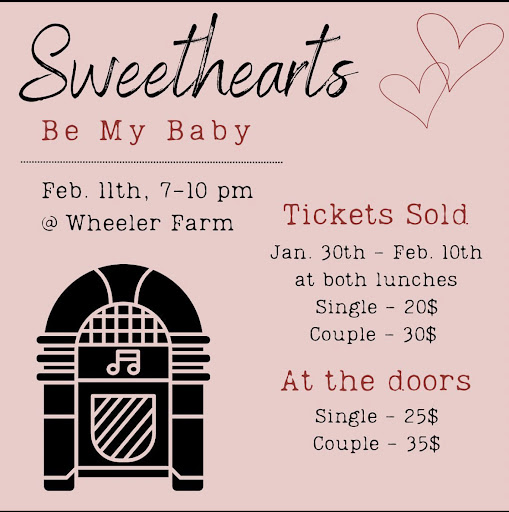 We are a Community School!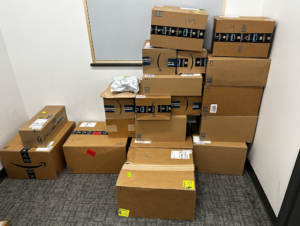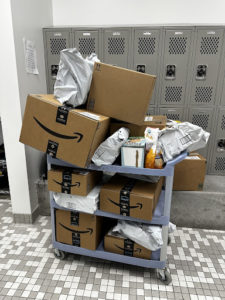 A BIG THANK YOU to our community members Colleen Workman, Brianne Ike, and David and Becky Parkin. They sent so many of our much-needed items including clothing, shoes, snacks, and hygiene products from our Amazon wishlist! 
This past month we have helped over 300 students with basic needs items, food, shoes, and clothing!
The Hillcrest Free Market is seeking donations of regular and small-sized cereal boxes and snacks such as granola bars and applesauce. Donations can be made at the front office. We also have several students waiting for shoes and clothing listed HERE on our Amazon wish list. 
If you or you know of families that would like to participate in our monthly meal bags please have them fill out this form HERE and we will contact them. Meal bags typically include eggs, meat, and other items. 
Events and Resources:
Each week we will feature community events and local resources in Midvale or surrounding areas. Please note, these events and resources are NOT sponsored by Hillcrest High School. This week: Free Tax Preparation, Teen Health Film Festival, Big Brothers Big Sisters, Family Support Center, Eye Care 4 Kids, CHIP, Take Care Utah, Immunization Clinic, Latino Behavioral Health, Boys and Girls Club, & Tyler Library. Please click HERE for more info. 
PTSA Updates
February Husky Heroes
Congratulations to the following students who have been named Husky Heroes!  Pick up your prize in the Main Office.
Freshman
Veronica Rodriguez
Isabelle Scriver
Sophomore
Junior
Maya Barnes
Chloe (Juno) Babitz
Senior
Leah Ahlander
Jose Sanchez Martinez
PTSA Student Service is throwing a Valentine's Day party for our special education students. We need students to help!! Come to Ms. Remy's Room A162 on Valentine's Day during APP to help play games and do crafts with our very special students!
If your student wants to participate in the STUDENT SERVICE CLUB, please email hhs.huskies.ptsa@gmail for more information!
PTSA Spirit Night
Raising Cane's  Thursday, Feb. 23rd  from 11 am-1 pm and 5 pm-8 pm at our Midvale location, 890 East Fort Union Blvd. Dine in-take-out, or drive-thru. MENTION you are with HILLCREST and Raising Canes will donate 15% to Hillcrest PTSA.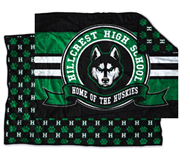 Husky Blankets for sale!  $75 for a super plush blanket. Sports water bottles for $10 and decals for $3 Show your Husky Pride! Want to avoid cc fees? You can purchase in the Main Office using cash/check.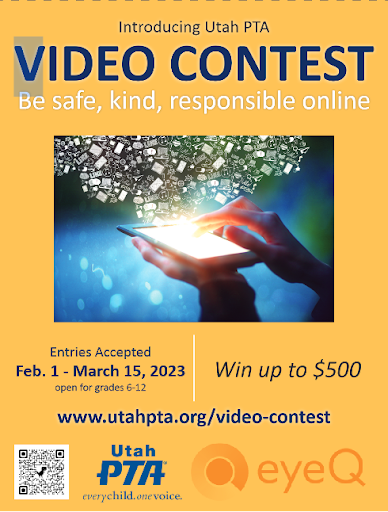 JOIN PTSA
Did you know that only 217 Hillcrest parents have joined PTSA this school year???? WE NEED YOU!
JOIN Hillcrest High PTSA and support the parents, teachers, and students!  Only $7 
https://hillcresthuskies.memberhub.com/store
Or Drop off cash/check to the Main Office in an envelope with your name and contact info and "PTSA"
We love serving you and our school but we need more parents!
PTSA Board 2022-23: Pres- Rebecca Martin, Sec- Becca Staker, Treasurer- Chelsea Worth, VP Membership- Kayo Robinson, VP Advocacy- Stacey Kratz
Hillcrest 1 Week Calendar of Events: 
February 8

9th Grade Course Request (English Classes)
National School Counselor Week
Drill Practice in the main Gym (6 am-7:30 am)
PTSA Meeting – Conference Room (1 pm-2 pm)
Basketball Practice in Main Gym (A days girls early, B days boys early) (2 pm-5:30 pm)
After School Recovery Class in Presentation Room (2:30 pm-4:30 pm)
Basketball Practice in Aux Gym (Boys and Girls) (2:30 pm-5;30 pm)
Dance Company Rehearsals in Studio (2:30 pm-4 pm)
Renaissance Feast Performance in Black Box Theater (2:30 pm-9:30 pm)
Spring Play Rehearsal (2:30 pm-6 pm)
Softball Open Gym in Fieldhouse (3 pm-5 pm)
Tennis Weights inWeight Room (3 pm-3:45 pm)
Football Offseason Weights in Weight Room (4 pm-5 pm)
Girls Soccer Open Gym (5:30 pm-9:30 pm)
Boys Jr Husky Basketball in Main and Aux Gym (7 pm-9 pm)
Girls Basketball: HHS @ Tooele (Soph 3:30, JV 5;15, V 7:00) (7 pm-9 pm)

February 9

8th Grade Course Request (Union and Midvale)
National School Counselor Week
Drill Practice in Main Gym (6 am-7:30 am)
Basketball Practice in Aux Gym (Boys and Girls) (2:00 pm-5:30 pm)
Dance Company Rehearsals in Studio (2:30 pm-4 pm)
HOSA in Hosting Room (2:30 pm-5 pm)
Renaissance Feast Performance in Black Box Theater (2:30 pm-9:30 pm)
Spring Play Rehearsal (2:30 pm-6 pm)
Baseball Open Gym in Fieldhouse (3 pm-5 pm)
Boys Soccer Open Gym in Fieldhouse (5:30 pm-9:30 pm)
CTE Pathways Information Night – Presentation Room (5:30 pm – 6:30 pm)
Boys Volleyball Open Gym in Aux Gym (7 pm-9 pm)

February 10

8th Grade Course Request at Albion
National School Counselor Week
Drill Practice in Main Gym (6 am-7:30 pm)
Basketball Practice in Main Gym (Girls early, Boys late) (12:30 pm-4:30 pm)
Renaissance Feast Performance in Black Box Theater (2:30 pm-9:30 pm)
Spring Play Rehearsal (2:30 pm-6 pm)
Baseball open Gym in Fieldhouse (3 pm-5 pm)
Basketball Practice Aux Gym (Boys and Girls) (3 pm-5:30 pm)
Tennis Weights in Weight Room (3 pm-3:45 pm)

February 11

National ACT (7 am-2 pm)
Softball Camp in Fieldhouse (7 am-9 am)
National Qualifier Speech (8 am-9 am)
Spring Play Rehearsals (8 am-3 pm)
Softball Open Gym in Fieldhouse (9 am-11 am)
Boys Basketball Practice in Main and Aux Gym (10 am-12 pm)
Boys Soccer Open Gym in Fieldhouse (11 am-1 pm)
Baseball Open Gym in Fieldhouse (1 pm-3 pm)
Sweethearts Dance at Wheeler Farm (7 pm-10 pm)

February 13

Drill Practice in Main Gym (6 am-7:30 am)
Renaissance Feast Rehearsal (8 am-9 am)
HOSA ARUP Blood Drive in Aux 
Basketball Practice Main Gym (A days girls early, B days boys early) (2 pm-5:30 pm)
Dance Company Rehearsals in Studio (2:30 pm-4 pm)
Spring Play Rehearsal (2:30 pm-6 pm)
Softball Play Rehearsal (2:30 pm-6 pm)
Softball Open Gym in Fieldhouse (3 pm-5 pm)
Tennis Weights in Weight Room (3 pm-3:45 pm)
Football Offseason Weights in Weight Room (4 pm-5 pm)
Cheer Practice in Fieldhouse (6 pm-9 pm)
Track Parent Meeting in Gallery (6 pm-7 pm)
Zero Fatalities in Aud (6 pm-9 pm)
Boys Jr Husky Basketball in Main and Aux Gym (7 pm-9 pm)

February 14

Arena Schedule Closes for 23-24
Drill Practice in Main Gym (6 am-7:30 am)
Renaissance Feast Rehearsal (8 am-9 am)
Basketball Practice in Main Gym (A days girls early, B days boys early) (2 pm-5:30 pm)
Dance Company Rehearsals in Studio (2:30 pm-4 pm)
Spring Play Rehearsal (2:30 pm-6 pm)
Unified Basketball in Aux Gym (2:30 pm-3:30 pm)
Baseball Open Gym in Fieldhouse (3 pm-5 pm)
Boys Soccer Open Gym in Fieldhouse (5:30 pm-9:30 pm)
Boys Basketball: HHS @ Uintah (Soph 3:30, JV/Fresh 5:15, V 7:00) (7 pm-9 pm)
Boys Volleyball Open Gym in Aux Gym (7 pm-9 pm)
HHS School Flyers and Events