HUSKY HOWL DANCE: October 23 from 7-10 p.m.!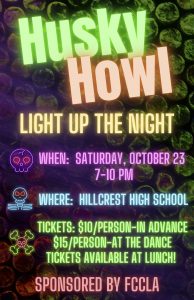 Husky Howl is coming up on October 23 from 7-10 p.m.!
The theme this year is "Light up the night", with blacklight, neon, and your best Halloween Costumes! 
Costume expectations include: 
No Masks

No Full Face Paint

No excessive gore

No Weapons

All Costumes must follow CSD Dress Code! 
 Tickets will be on sale next week during lunch for $10 – you will need to bring your student ID to buy your ticket and get into the dance! 
Bringing someone from another school? Click Here to download the required permission slip. Your guest must bring their filled out slip and student ID to get in! 
Questions? Contact Mrs. Heath in Room A168!