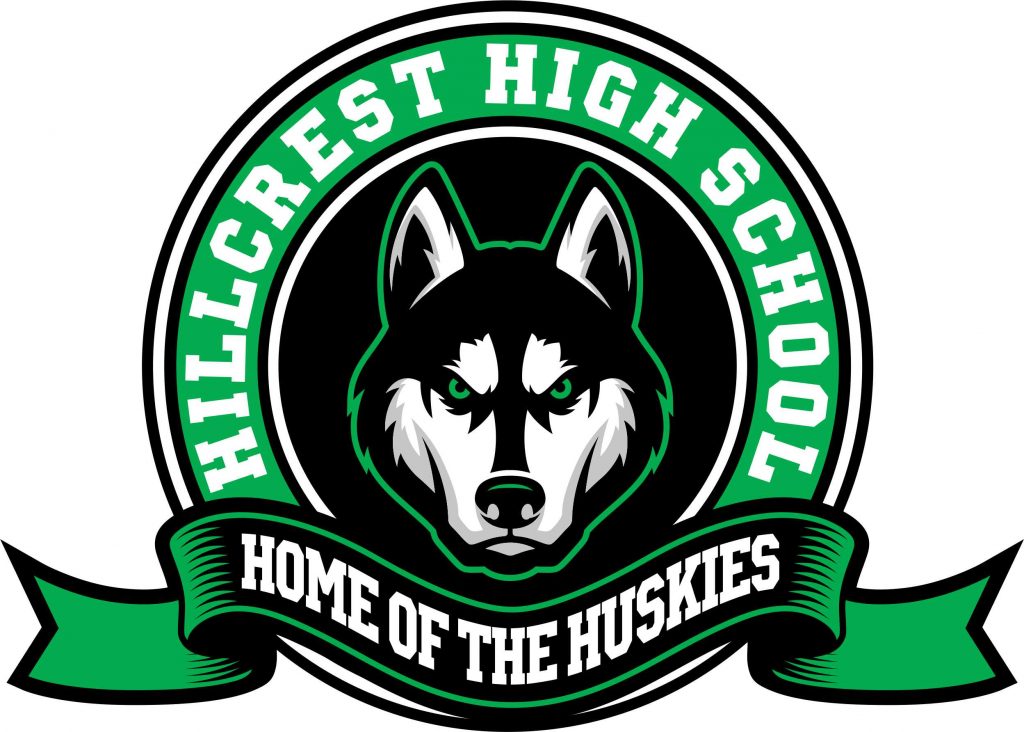 HUSKY STRONG NEWSLETTER:
04/19/2023
Hillcrest High School, Midvale, Utah
*In this Husky Strong, you will find information about: Prom, Graduation, Community School Info, PTSA, and Calendar of Events*  
Keep up with all that is happening at Hillcrest High School. Like us on Facebook, follow us on Instagram (@hillcrest.huskies) and our SBO Instagram (@hillcrestsbo)
Upcoming Key Dates
| | |
| --- | --- |
| IMPORTANT DATES | SCHEDULE & EVENTS |
| April 22nd (7 pm-10 pm) | PROM at Thanksgiving Point – Electric Park (Ashton Blvd, Lehi, UT 84043) |
Spirit Bowl Help
Hillcrest families, Please sign-up to come to help the Student Body Officers prepare for an end-of-year event. They need some parent volunteers on Friday, April 21st, from 1:00 pm – 3:00 to decorate the school for the end-of-the-year Spirit Bowl Assembly. Please come support us if you are able! Please click on the link HERE to sign up. 
Graduation Reminders (Seniors Only)
SCHOLARSHIPS
The Hillcrest High Alumni Association is offering two different scholarships this year for Hillcrest Seniors. Deadline for both scholarships is Sunday, April 30, 2023. Students may apply for one or both scholarships. See below for details and requirements. If you have any questions about the scholarships please see your counselor or contact, hillcresthighalumni@gmail.com
The Hillcrest High Alumni Association 2023 Scholarships
Scholarship value: to be determined (Over the past three years recipients were awarded an average of $2,000 each.)
Number of scholarships available: to be determined (multiple scholarships will be awarded)
Hillcrest High Alumni Association Scholarships Eligibility: Must be a Hillcrest High School graduate in 2023. These are needs-based scholarships to be used for one term of college or other vocational training. Students must fill out a short application and include a letter of reference, a photo, and a signed permission form.
Lorene Mark Scholarship 2023 – The Power of Words and Education
Lorene Mark is a former Hillcrest High educator. She taught language arts at Hillcrest from 1962 till 1988. She was passionate about what she did and she had a great influence on many students over the years.
One Lorene Mark 2023 Scholarship will be awarded.
Scholarship value: to be determined (minimum $1,000)
Lorene Mark Scholarship Eligibility: Open to 2023 Hillcrest High School graduates. To be awarded to a student majoring in English or Education OR a student who has been empowered through writing and language skills. Students must fill out a short application and include a letter of reference, a photo, and a signed permission form. Students must also write an essay about their passion for English or Education. OR explain how they have been empowered through writing and language.
  How to apply for one or both scholarships:
Paper: Fill out a paper copy and turn it into the Hillcrest Counseling Center. Paper copies are available in the Counseling Center
Or mail it to:  Hillcrest High Alumni Association
10291 South 1300 East, PMB #106, Sandy, UT  84094
                                                         OR
Digital: To request a digital application – send an email to hillcresthighalumni@gmail.com
Application deadline for both scholarships is Sunday, April 30, 2023
Questions? Email Karen Conder, HHAA Secretary at hillcresthighalumni@gmail.com
The countdown to graduation has begun!  It will be here before you know it!  Here are a few important reminders:
Jostens will be here on MONDAY APRIL 24th during lunch to distribute caps and gowns.
IF YOU HAVEN'T ORDERED YOUR CAP AND GOWN:  Caps and gowns must be ordered as soon as possible to ensure we have the size and to have it delivered at the school on time.  Order online at  www.jostens.com.
Graduation announcements/invites?  Official and custom school announcements or Personalized Photo announcements can still be ordered. You can design, personalize and easily order your invites at www.jostens.com.  Questions? Call 1-800-567-8367.
Senior Graduation Rings can also still be ordered, customized and delivered to you within four weeks of the order.  Visit www.jostens.com to view the graduation jewelry catalog and to place your order.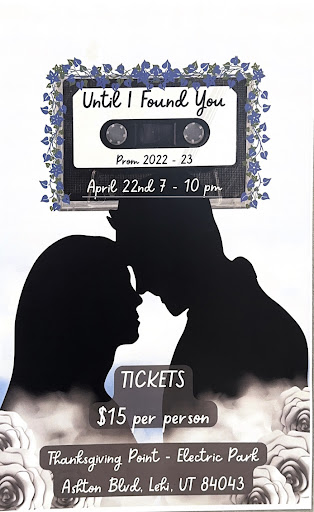 PROM
Tickets will be for sale at both lunches all next week (4/17-21) as well as at the door of the dance on 4/22 for $15 per single ticket, no-couple rate. Everyone and all grades are welcome, even without dates! The dance is a formal dress and, of course, subject to school dress code considerations. Students must bring their ID. The location is at Thanksgiving Point Electric Park (3003 Thanksgiving Wy, Lehi, UT 84043) from 7 to 10 P.M. Students should park in the south parking lots. The theme is "Until I Found You." It is outdoors,  under a pavilion, so please check the forecast and bring a jacket if needed. If you are bringing a date or friend from another school, you must fill out a form from the office, and that person should bring their school ID to the dance.
Options for Public transportation to prom: Use the moovitapp.com or find a bus.
Substance Use Awareness Night
Join us for our first Hillcrest Substance Use Awareness Night on April 27th at 6 pm in the Presentation Room. Parents and students are welcome to attend to learn about identifying and preventing teen substance use. To register, please click the following link: bit.ly/HHSSubAwareness (registration is not required to attend). We will have a free pizza dinner, a presentation from our Hillcrest Social Workers, and a question and answer panel with our social workers, administration, resource officer, and the Salt Lake County Health Department. Interpreters for Spanish will be available. If you need other languages, please use the registration link above. If you need more information regarding the event, please contact vincen.franco@canyonsdistrict.org.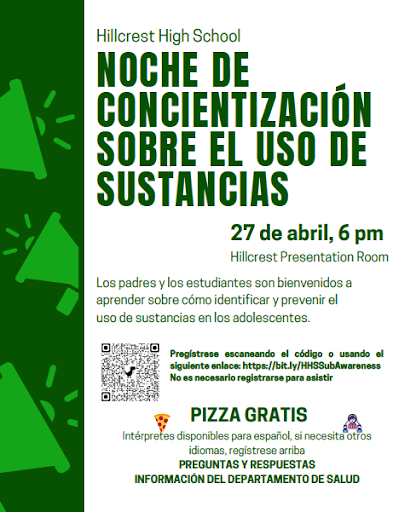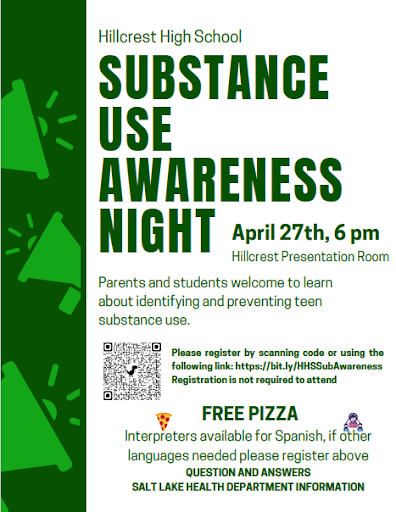 Academic Letter
All students, 9th through 12th grade,  are invited to apply for the academic letter at Hillcrest High School.  Students must have received a 3.5 GPA in each of the first three quarters of the current school year and must be taking 4 Hillcrest core classes, as defined in the Canyons District Course Catalog, for the first three quarters. Core classes are Social Studies, Math, Language Arts, and Science.  They must also have good attendance.  Students may pick up an application for the Academic Letter at the window in the Registrar's Office.  The applications are due no later than Friday, April 21 at 3:00 p.m.
Summer School
Students! Hillcrest will host two summer school sessions in the presentation room, 8 am-12 pm, Monday-Thursday.
Session 1: May 30-June 8 (to sign up, click HERE)
Session 2: June 12 – June 22 (to sign up, click HERE)
All classes will be in person. Each class completed is worth .25 credits. Grades earned in summer school are not for grade replacement and are for credit recovery ONLY. Coursework must be completed during the summer school sessions. Students must bring a charged Chromebook and charger each day. Bussing transportation will be provided at elementary schools. Please see the flyer for more information. Counselors will be available on Monday, May 30th, and June 12th to help with registration of courses.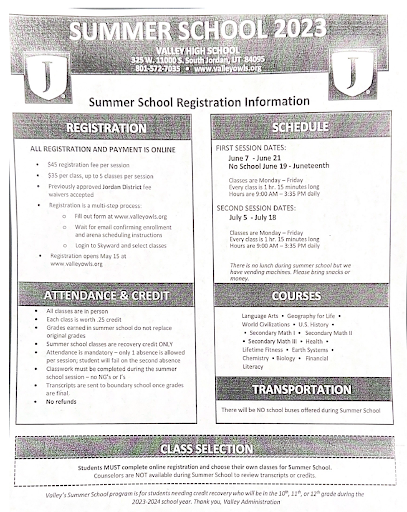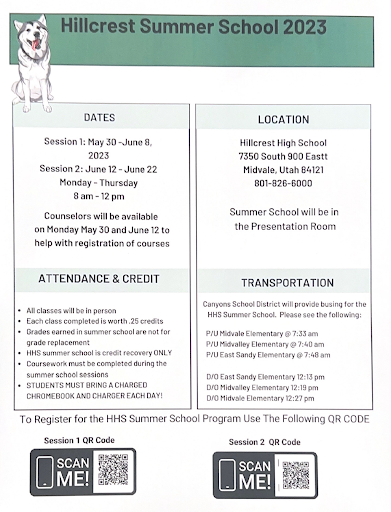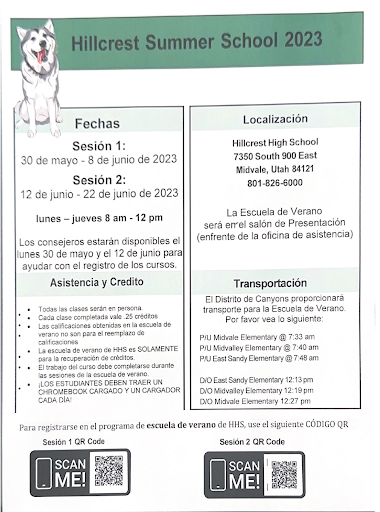 Digital Citizenship
It can be difficult to keep up with the apps, games, and websites that are popular with kids. Common Sense's Parents' Ultimate Guides can help keep you up to date and answer your questions about all the latest platforms and trends. Visit Common Sense Media to explore the Parents' Ultimate Guides for Roblox, Discord, Minecraft, Snapchat, TikTok, Fortnite, or Instagram.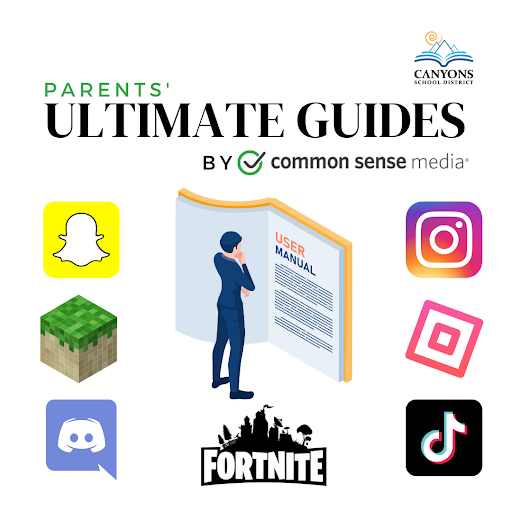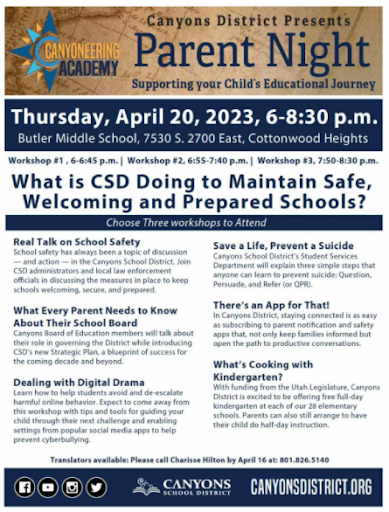 Canyoneering Academy- Safety Protocols
Canyons invites employees and families to become familiar with District safety protocols at the next Canyoneering Academy — CSD's parent-information nights.  Sponsored as part of an ongoing lecture series, the event is free and open to the public and scheduled for Thursday, April 20, 6-8:30 p.m. at Butler Middle School, 7530 S. 2700 East. At the event, attendees will have their choice of attending three of six workshops covering a variety of topics, from digital safety and suicide prevention to the parent notification apps Canyons uses to keep families informed. "Canyons District is building safe schools from the inside out," said digital teaching and learning specialist Katie Gebhardt who is hosting a workshop on dealing with digital drama. "We'll talk about how drama can escalate online and share tips and tools to help older kids and teens avoid and de-escalate harmful online behavior." For more information please visit ttps://www.canyonsdistrict.org/safe-schools/ 
Math Summer Bridge Programs
Canyons School District High School Math Secondary Honors Summer Bridge Course
If you are an incoming 10th grader who took Secondary I in 9th grade and would like to take Secondary II HONORS in 10th grade, this course is for you!
During this class, students will study the Pre-Calculus concepts taught in the Secondary I Honors course: vectors, matrices, determinants, Cramer's rule, and operations on matrices and vectors. Students will need to show mastery of concepts through the end-of-course assessment.
The class will be held June 5th- June 15th Monday-Thursday (No class on Fridays) 9 am-11 am. Classes will be held in person at Jordan High School (95 Beetdigger Blvd, Sandy, Utah 84070)
To register please click HERE. Registration closes Friday, May 26th at 5 pm. For more information please contact Allison Duncan (allison.duncan@canyonsdistrict.org)  
University of Utah Summer Mathematics Program for High School Students
The Summer Mathematics Program for High School Students at the University of Utah provides outstanding students an opportunity to develop their math talents to the fullest. Participants will receive three University credits in mathematics. 
Classes will be held June 20th – July 7th Monday-Friday. For more information and to apply to the program please click HERE. Applications close on June 1st. For more information on the program please contact Sean Lawley (lawley@math.edu.edu)
We are a Community School!
Thank you to everyone who has sent items from our Amazon Wishlist to the pantry.  We appreciate your support!  Our Wishlist has clothing items and shoes for specific students in need as well as the pantry items we go through quickly.  
We are currently looking for cereal donations, fruit cups, and microwavable Mac and cheese cups.  
Please check out our Amazon Wish List for clothing and hygiene items. We have a few students waiting for soccer cleats on our wish list. Check out our Success Fund as well, where we fundraise for vegetables, fruits, and other fresh food for our monthly meal bags.  
If you or you know of families that would like to participate in our monthly meal bags or to join our parent square list please have them fill out this form HERE, and we will contact them. Meal bags typically include eggs, meat, and other items. Every Tuesday after school, we provide fresh produce on a first-come, first-serve basis in the Cafeteria.
Events and Resources:
Each week we will feature community events and local resources in Midvale or surrounding areas. Please note, these events and resources are NOT sponsored by Hillcrest High School. Please click HERE for more info. 
Spirit Night at Handel's Ice Cream  Mon April 24th, 3:30 pm – 8:30 pm Ft Union location 6933 S 1300 E.
Mention that you are with Hillcrest PTSA when you order, and they will donate to our PTSA!
Husky Hero Awards Congratulations to April's Award Winners! Come to the office to pick up your prize bag! And thank you for making Hillcrest a better place.
Freshmen
Tavis Dawes
Danielle Mertz
Sophomores
Carson Gord
Lucas Trujillo
Juniors
Chloe Ladle
Chloe Marshall
Seniors
Ben Bethers
Guadalupe Iturbide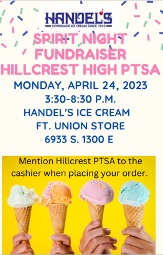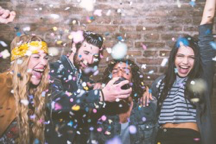 Parents of Seniors- GRAD NIGHT is coming!
We need parent volunteers to plan activities and food for GRAD NIGHT- the all-night party for graduating Seniors. To be held at Dimple Dell Rec Center May 25th 10pm- 5am.  Email what committee you would like to join! email hhs.huskies.ptsa@gmail
Committees: Activities, Food, Publicity, Ticketing, Prizes
Do you or your company want to donate a prize? Anything from gift cards to squishmallows to earbuds or a new TV!!  We need door prizes to encourage the kids to stay at the party all night!
Contact Rebecca at hhs.huskies.ptsa@gmail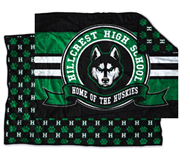 Husky Blankets for sale!  $75 for a super plush blanket. Sports water bottles for $10 and decals for $3 Show your Husky Pride! Want to avoid cc fees? You can purchase in the Main Office using cash/check.
JOIN PTSA
JOIN Hillcrest High PTSA and support the parents, teachers, and students!  Only $7 
https://hillcresthuskies.memberhub.com/store
Or Drop off cash/check to the Main Office in an envelope with your name and contact info and "PTSA"
We love serving you and our school, but we need more parents!
PTSA IS LOOKING FOR A PRESIDENT-ELECT for next year!! EMAIL IF YOU ARE INTERESTED!!
PTSA Board has been reelected for the 2023-24 school year. Thank you for your service!
PTSA Board 2022-23: Pres- Rebecca Martin, Sec- Becca Staker, Treasurer- Chelsea Worth, VP Membership- Kayo Robinson, VP Advocacy- Stacey Kratz
Hillcrest 1 Week Calendar of Events: 
April 19 

Big Band Auditions
Dance Company Auditions in Aux (2:30 pm-7 pm)
Production Company Rehearsals (2:30 pm-7 pm)
Boys Volleyball Practice in Main Gym (3 pm-5 pm)
NHS in Hosting Room – Blanket Service Project (3 pm-5 pm)
Softball Practice at Softball Field (3 pm-5:30 pm)
Baseball: Providence Hall @ HHS (3:30 pm-4:30 pm)
Boys Soccer: HHS @ Cottonwood (3:30 pm-4:30 pm)
Track and Field: Payson @ HHS (3:30 pm-4:30 pm)
Boys Basketball Open Gym in Main Gym (7 pm-9 pm)
Boys Soccer: Soph HHS @ Murray (7 pm-11 pm)

April 20 

Prom Assembly (Juniors Only) in Auditorium (9 am-9:44 am)
Great American Shake Out (9:07 am-9:37 am)
Production Company Rehearsals (2:30 pm-7 pm)
Baseball Practice at Baseball Field (3 pm-5:30 pm)
Hillcrest Medical Science Pathway White Coat Banquet in Gallery (3 pm-10 pm)
Track Practice at Track and Football Field (3 pm-5 pm)
Boys Soccer Practice at Soccer Field (3:30 pm-7:30 pm)
Boys Tennis: HHS @ Cottonwood (3:30 pm-4:30 pm)
Softball: HHS @ Green Canyons (3:30 pm-4:30 pm)

April 21 

Production Company Rehearsals (2:30 pm-7 pm)
Baseball Practice at Baseball Field (3 pm-5:30 pm)
Boys Tennis Practice at Tennis Courts (3 pm-5:30 pm)
Track Practice at Track and Football Field (3 pm-5 pm)
Boys Soccer Practice at Soccer Field (3:30 pm-7:30 pm)
Softball: Cottonwood @ HHS (3:30 pm-4:30 pm)
Boys Soccer: Soph @ Bingham (4 pm-5 pm)
Signing in Gallery (7 pm-8:30 pm)

April 22 

Track: Bingham Invite
Productions Company Rehearsals (8 am-5 pm)
Football 8th Grade Presentation (9 am-11:30 am)
Baseball in Fieldhouse (1 pm-3 pm)
Junior Prom at Thanksgiving Point (7 pm-10 pm)

April 24 

Region JV Tennis Tournament @ HHS
Girls Golf: HHS vs Cedar Valley @ Talons Cove (9 am-4 pm)
Cap n Gown Distribution Over Lunch in the Commons – Jostens (11 am-2 pm)
After School Credit Recovery in Presentation Rm (2:30 pm-4:30 pm)
Production Company Rehearsals (2:30 pm-7 pm)
Baseball Practice at Baseball Field (3 pm-5:30 pm)
Boys Tennis Practice at Tennis Courts (3 pm-5:30 pm)
Boys Tennis: HHS @ Murray (3 pm-4 pm)
Boys Volleyball Practice in Main Gym (3 pm-5 pm)
Track Practice at Track and Football Field (3 pm-5 pm)
Boys Soccer Practice at Soccer Field (3:30 pm-7:30 pm)
Softball: HHS @ Olympus (3:30 pm-4:30 pm)
Spring Football at Football Field (3:30 pm-5:30 pm)
Soccer Team Dinner in Gallery (6:30 pm-9 pm)
Boys Basketball Open Gym in Main Gym (7 pm-9 pm)

April 25 

Senior Green Sheets in Senior English Classes
Astronomy Field Trip at Planetarium (8:45 am-1:30 pm)
After School Credit Recovery in Presentation Rm (2:30 pm-4:30 pm)
Production Company Rehearsals (2:30 pm-7 pm)
Boys Tennis Practice at Tennis Courts (3 pm-5:30 pm)
Track Practice at Track and Football Field (3 pm-5 pm)
Baseball: HHS @ Uintah (3:30 pm-4:30 pm)
Boys Soccer Practice at Soccer Field (3:30 pm-7:30 pm)
Softball: Uintah @ HHS (3:30 pm-4:30 pm)

April 26 

Boys Tennis: Region @ HHS
Boys Tennis: Varsity Region @ HHS
Senior Green Sheets (Senior English Classes)
Panoramic School Picture (1:15 pm-2:15 pm)
After School Credit Recovery in Presentation Rm (2:30 pm-4:30 pm)
Production Company Rehearsals (2:30 pm-7 pm)
Baseball Practice at Baseball Field (3 pm-5:30 pm)
Boys Volleyball Practice in Main Gym (3 pm-5 pm)
Boys Soccer Practice at Soccer Field (3:30 pm-7:30 pm)
Boys Soccer: Stansbury @ HHS (3:30 pm-4:30 pm)
Softball: Alta @ HHS (3:30 pm-6 pm)
Spring Football at Football Field (3:30 pm-5:30 pm)
Track and Field: HHS @ Cottonwood (3:30 pm-4:30 pm)
Boys Basketball Open Gym in Main Gym (7 pm-9 pm)
HHS School Flyers and Events