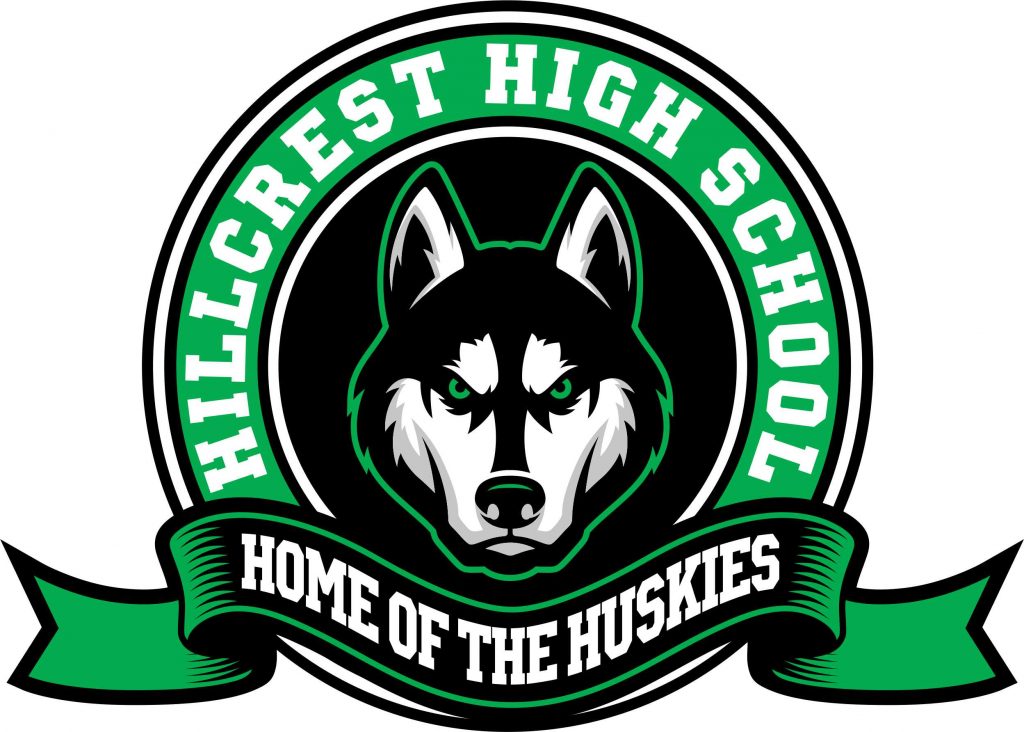 HUSKY STRONG NEWSLETTER:
04/26/2023
Hillcrest High School, Midvale, Utah
*In this Husky Strong, you will find information about: Graduation, Substance Use Awareness Night, Job Fair, Summer School, Summer Bridge Program, Community School Info, PTSA, and Calendar of Events*  
Keep up with all that is happening at Hillcrest High School. Like us on Facebook, follow us on Instagram (@hillcrest.huskies) and our SBO Instagram (@hillcrestsbo)
Upcoming Key Dates
| | |
| --- | --- |
| IMPORTANT DATES | SCHEDULE & EVENTS |
| Senior Graduation | May 25th at the Maverik Center |
| AP & IB Testing | May 1st – May 19th |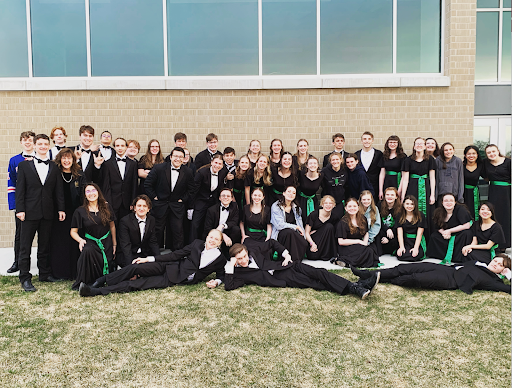 Congratulations to the Hillcrest Acapella Choir. They received straight superior ratings at Region Festival and will be advancing to state!
Graduation Reminders (Seniors Only)
Upcoming information for senior events will be announced in next week's newsletter and mailed home!
The countdown to graduation has begun! It will be here before you know it!  Here are a few important reminders:
If you have ordered your cap and gown, they are in the counseling center with your name on it. If there is a hold on your cap and gown, please talk to your counselor. 

IF YOU HAVEN'T ORDERED YOUR CAP AND GOWN: Caps and gowns must be ordered as soon as possible to ensure we have the size and to have them delivered to the school on time. Order online at  www.jostens.com.
Graduation announcements/invites? Official and custom school announcements or Personalized Photo announcements can still be ordered. You can design, personalize and easily order your invites at www.jostens.com. Questions? Call 1-800-567-8367
Senior Graduation Rings can also still be ordered, customized, and delivered to you within four weeks of the order. Visit www.jostens.com to view the graduation jewelry catalog and to place your order.
Attention seniors! Please take the senior survey to get your cap and gown. You must show proof that you completed the survey to your counselor. Please see the following link: csdsurveys.canyonsdistrict.org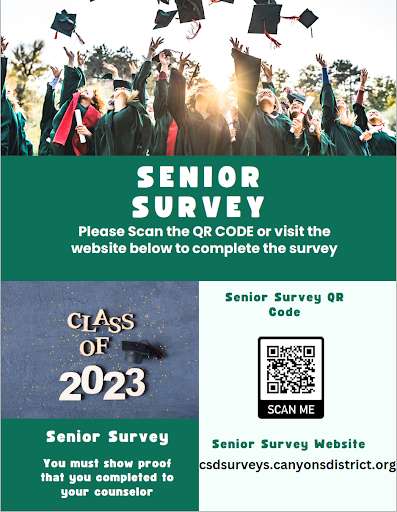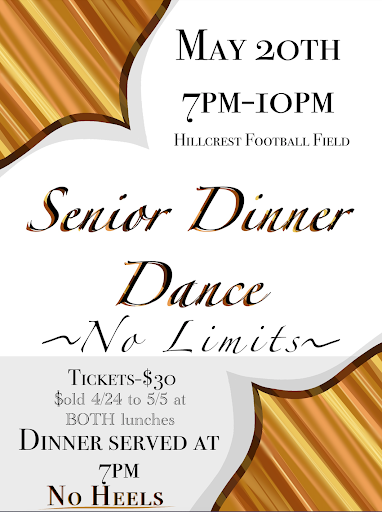 SCHOLARSHIPS
The Hillcrest High Alumni Association is offering two different scholarships this year for Hillcrest Seniors. The deadline for both scholarships is Sunday, April 30, 2023. Students may apply for one or both scholarships. See below for details and requirements. If you have any questions about the scholarships please see your counselor or contact, hillcresthighalumni@gmail.com
The Hillcrest High Alumni Association 2023 Scholarships
Scholarship value: to be determined (Over the past three years recipients were awarded an average of $2,000 each.)
Number of scholarships available: to be determined (multiple scholarships will be awarded)
Hillcrest High Alumni Association Scholarships Eligibility: Must be a Hillcrest High School graduate in 2023. These are needs-based scholarships to be used for one term of college or other vocational training. Students must fill out a short application and include a letter of reference, a photo, and a signed permission form.
Lorene Mark Scholarship 2023 – The Power of Words and Education
Lorene Mark is a former Hillcrest High educator. She taught language arts at Hillcrest from 1962 till 1988. She was passionate about what she did and she had a great influence on many students over the years.
One Lorene Mark 2023 Scholarship will be awarded.
Scholarship value: to be determined (minimum $1,000)
Lorene Mark Scholarship Eligibility: Open to 2023 Hillcrest High School graduates. To be awarded to a student majoring in English or Education OR a student who has been empowered through writing and language skills. Students must fill out a short application and include a letter of reference, a photo, and a signed permission form. Students must also write an essay about their passion for English or Education. OR explain how they have been empowered through writing and language.
How to apply for one or both scholarships:
Paper: Fill out a paper copy and turn it in to the Hillcrest Counseling Center. Paper copies are available in the Counseling Center
Or mail it to: Hillcrest High Alumni Association
10291 South 1300 East, PMB #106, Sandy, UT  84094
                                                         OR
Digital: To request a digital application – send an email to hillcresthighalumni@gmail.com
Application deadline for both scholarships is Sunday, April 30, 2023
Questions? Email Karen Conder, HHAA Secretary at hillcresthighalumni@gmail.com
AP Testing
AP exams begin May 1st. Check your exam date/time on the College Board. If you have questions, please see Mrs. Williams in the counseling center. Please bring two number two pencils, a pen with black or dark blue ink, & a permissible calculator for certain exams. Do not bring cell phones, smart watches, food, or mechanical pencils. Please review the terms and conditions before test day at cb.org/apexamterms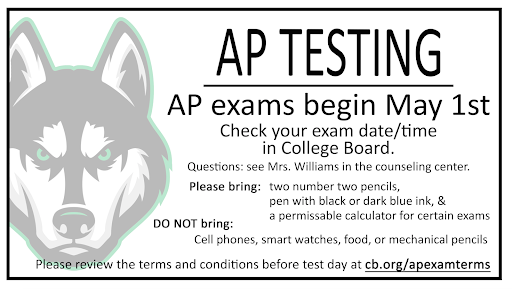 Counseling Center Survey
The Hillcrest High School Counseling Center is currently conducting a Needs Assessment and needs your help!  We are collecting information from parents through a brief online survey.  
The results will help us know which areas we need to focus on to best support your students. Please click on the link below and choose Hillcrest High School from the drop-down menu to take this brief survey. 
https://www.ctesurveys.com/CTESurvey?PointerId=222&SchoolId=56
Substance Use Awareness Night
Join us for our first Hillcrest Substance Use Awareness Night on April 27th at 6 pm in the Presentation Room. Parents and students are welcome to attend to learn about identifying and preventing teen substance use. To register, please click the following link: bit.ly/HHSSubAwareness (registration is not required to attend). We will have a free pizza dinner, a presentation from our Hillcrest Social Workers, and a question and answer panel with our social workers, administration, resource officer, and the Salt Lake County Health Department. Interpreters for Spanish will be available, if you need other languages, please use the registration link above. If you need more information regarding the event, please contact vincen.franco@canyonsdistrict.org.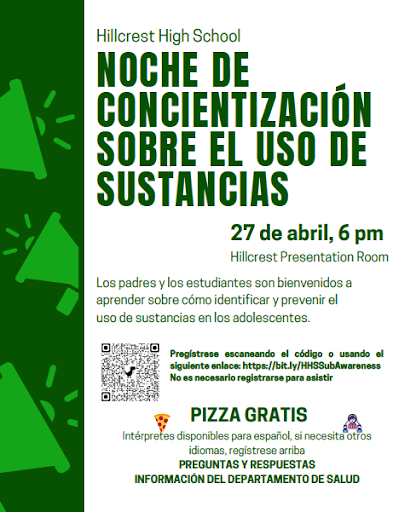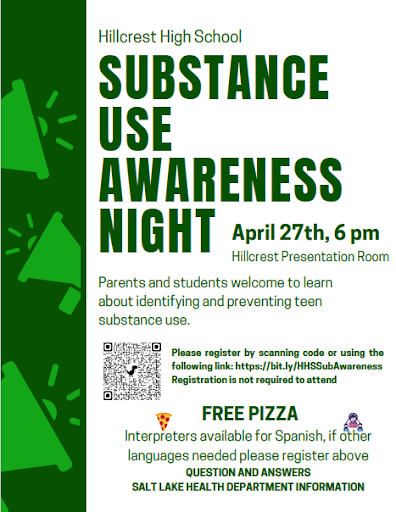 Hillcrest Job Fair
What: Job Fair
When: Thursday, May 3rd
Time: 11-1 PM during lunch
Where: West side patio (outside)
Students may visit with exhibitors during their lunch break to talk about individual jobs available to the public, some jobs starting as young as 14 or 15 years of age. 
There will also be a wide range of careers starting at 18
HILLCREST JOB FAIR VENDORS  2023
GQ Barber Co. 
HB Boys LC 
Dimple Dell Recreation Center
Vector Marketing 
Cottonwood Heights Post Office 
US Marines
Human Resources Recruitment Services 
SUU Aviation 
BD.com
ES Solar 
Nike Outlet Park City 
In and Out Burger
Utah Community Action 
Employee Services Center 
Dan's Fresh Market 
And several more that will join us before next Wed.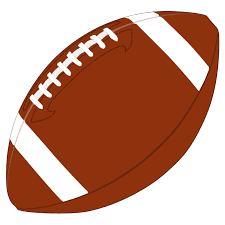 Football Spring Ball
Football Spring Ball starts next Monday, May 1st!
Dates: May 1, 3, 8, 10, 15, & 17
Time: 4 pm-5:30 pm
Where: Football Field
Who: Current 8-11 Graders
Cost: FREE!
Come learn the fundamentals of football, our playbook, coaching staff, and fellow players. Bring cleats, tennis shoes, and your own water bottle. We look forward to having you join us!
Summer School
Students! Hillcrest will host two summer school sessions in the presentation room, 8 am-12 pm, Monday-Thursday.
Session 1: May 30-June 8 (to sign up, click HERE)
Session 2: June 12 – June 22 (to sign up, click HERE)
All classes will be in person. Each class completed is worth .25 credits. Grades earned in summer school are not for grade replacement and are for credit recovery ONLY. Coursework must be completed during the summer school sessions. Students must bring a charged Chromebook and charger each day. Bussing transportation will be provided at elementary schools. Please see the flyer for more information. Counselors will be available on Monday, May 30th, and June 12th to help with registration of courses.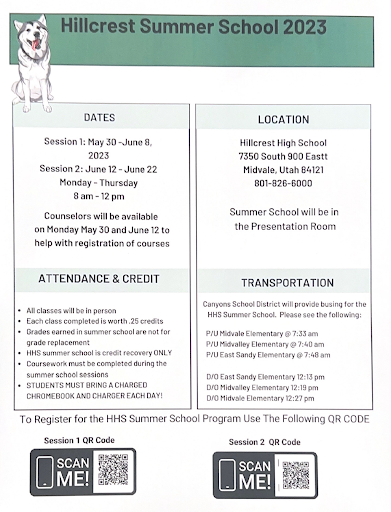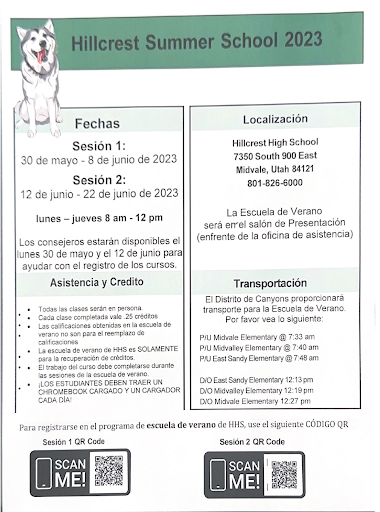 Digital Citizenship
It can be difficult to keep up with the apps, games, and websites that are popular with kids. Common Sense's Parents' Ultimate Guides can help keep you up to date and answer your questions about all the latest platforms and trends. Visit Common Sense Media to explore the Parents' Ultimate Guides for Roblox, Discord, Minecraft, Snapchat, TikTok, Fortnite, or Instagram.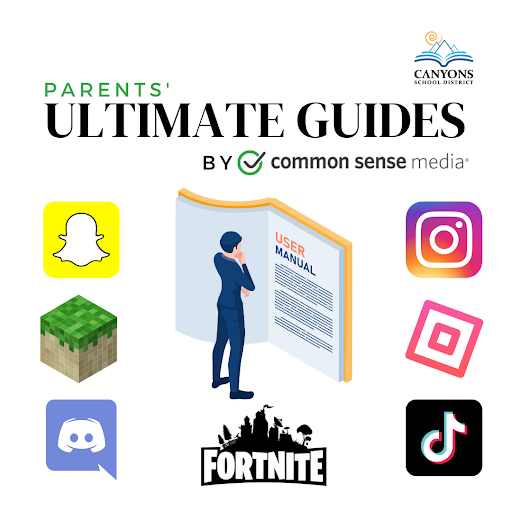 Math Summer Bridge Programs
Canyons School District High School Math Secondary Honors Summer Bridge Course
If you are an incoming 10th grader who took Secondary I in 9th grade and would like to take Secondary II HONORS in 10th grade, this course is for you!
During this class, students will study the Pre-Calculus concepts taught in the Secondary I Honors course: vectors, matrices, determinants, Cramer's rule, and operations on matrices and vectors. Students will need to show mastery of concepts through the end-of-course assessment.
Class will be held June 5th- June 15th Monday-Thursday (No class on Fridays) 9 am-11 am. Classes will be held in person at Jordan High School (95 Beetdigger Blvd, Sandy, Utah 84070)
To register, please click HERE. Registration closes Friday, May 26th at 5 pm. For more information, please contact Allison Duncan (allison.duncan@canyonsdistrict.org)  
University of Utah Summer Mathematics Program for High School Students
The Summer Mathematics Program for High School Students at the University of Utah provides outstanding students an opportunity to develop their math talents to the fullest. Participants will receive three University credits in mathematics. 
Classes will be held June 20th – July 7th Monday-Friday. For more information and to apply to the program, please click HERE. Applications close on June 1st. For more information on the program, please contact Sean Lawley (lawley@math.edu.edu)
We are a Community School!
Thank you to all of our Hillcrest Family for supporting the Hillcrest Free Market this school year.  A special thank you to Karen Coons and her group, Simple Acts of Service, for helping with our Summer Break Meal bags in May.
All summer long, we will be collecting NEW tennis shoes (men and women, all adult sizes) and NEW backpacks for the next school year.  
For questions, donation drop off or pick up details, or if your family/neighborhood would like to host a donation drive, please email 
elizabeth.demke@canyonsdistrict.org
During the summer, we will be continuing monthly meal bags and our farmers market. Please stay tuned for more information! 
Events and Resources:
Each week we will feature community events and local resources in Midvale or surrounding areas. Please note these events and resources are NOT sponsored by Hillcrest High School. Please click HERE for more info.
Needs Assessment
Parents/Guardians- Hillcrest PTSA is setting our budget and priorities for next school year, and we need your help deciding where we spend our TIME and MONEY. Please fill out this SHORT SURVEY (should only take 2 minutes), and your student will get a TREAT!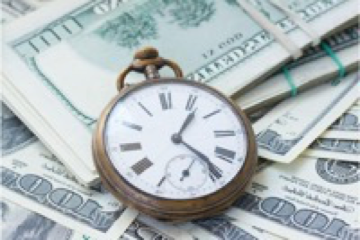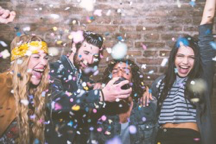 Parents of Seniors- GRAD NIGHT is coming!
We need parent volunteers to run activities, prizes, food, and security for GRAD NIGHT- the all-night party for graduating Seniors. To be held at Dimple Dell Rec Center on May 25th, 10 pm- 5 am. 
SIGN UP TO HELP UP HERE!!
https://www.signupgenius.com/go/60B054DAFAD29A20-grad
Do you or your company want to donate a prize? Anything from gift cards to squish mallows to earbuds or a new TV!!  We need door prizes to encourage the kids to stay at the party and be safe all night!
Contact Rebecca at hhs.huskies.ptsa@gmail
Buy your tickets for GRAD NIGHT NOW!! $25 for tons of FOOD, games, and awesome prizes! It's a safe, fun place for our students to celebrate with other Hillcrest Seniors.
https://hillcresthuskies.memberhub.com/store/items/847723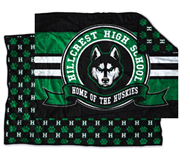 Husky Blankets for sale!  $75 for a super plush blanket. Sports water bottles for $10 and decals for $3 Show your Husky Pride! Want to avoid cc fees? You can purchase in the Main Office using cash/check.
JOIN PTSA
JOIN Hillcrest High PTSA and support the parents, teachers, and students!  Only $7 
https://hillcresthuskies.memberhub.com/store
Or Drop off cash/check to the Main Office in an envelope with your name and contact info and "PTSA"
We love serving you and our school, but we need more parents!
PTSA IS LOOKING FOR A PRESIDENT-ELECT for next year!! EMAIL IF YOU ARE INTERESTED!!
PTSA Board has been reelected for 2023-24 school year. Thank you for your service!
PTSA Board 2022-23: Pres- Rebecca Martin, Sec- Becca Staker, Treasurer- Chelsea Worth, VP Membership- Kayo Robinson, VP Advocacy- Stacey Kratz
Hillcrest 1 Week Calendar of Events: 
April 26 

Boys Tennis: Varsity Region @ HHS
Senior Green Sheets (Senior English Classes)
Panoramic School Picture (1:15 pm-2:15 pm)
After School Credit Recovery in Presentation Rm (2:30 pm-4:30 pm)
Production Company Rehearsals (2:30 pm-7 pm)
Baseball Practice at Baseball Field (3 pm-5:30 pm)
Boys Volleyball Practice in Main Gym (3 pm-5 pm)
Boys Soccer Practice at Soccer Field (3:30 pm-7:30 pm)
Boys Soccer: Stansbury @ Hillcrest (3:30 pm-4:30 pm)
Softball: Alta @ HHS (3:30 pm-6 pm)
Spring Football at Football Field (3:30 pm-5:30 pm)
Track and Field: HHS @ Cottonwood (3:30 pm-4:30 pm)
Girls Volleyball Open Gym in Main Gym (5 pm-7 pm)
Boys Basketball Open Gym in Main Gym (7 pm-9 pm)
Student Lunch Cupbop (area outside of auditorium)(11 am-12 pm)

April 27 

Boys Tennis: Varsity Region @ HHS
Region Orchestra Festival 
Spirit Bowl one assembly in the Gym after 1st period (8 am-9 am)
Girls Golf: HHS vs Uintah @ Dinoland GC (9 am-5 pm)
After School Credit Recovery in Presentation Rm (2:30 pm-4:30 pm)
HOSA in Hosting Room (2:30 pm-5 pm)
Production Company Rehearsals (2:30 pm-7 pm)
Track Practice at Track and Football Field (3 pm-5 pm)
Baseball: Uintah @ HHS (3:30 pm-4:30 pm)
Boys Soccer Practice in Soccer Field (3:30 pm-7:30 pm)
Softball: Tooele @ HHS (3:30 pm-6 pm)
Substance Use Awareness Night in Presentation Rm (6 pm-8 pm)

April 28 

Track and Field: Nebo Invitational at Maple Mountain
Academic Letter Breakfast in Cafeteria (8 am)
Production Company Rehearsals (2:30 pm-7 pm)
Baseball Practice at Baseball Field (3 pm-5:30 pm)
Track Practice at Track and Football Field (3 pm-5 pm)
Boys Soccer: Soph HHS @ Alta (3:30 pm-7:30 pm)
Boys Soccer: Uintah @ HHS (3:30 pm-4:30 pm)
Boys Tennis: Hunter @ HHS (3:30 pm-4:30 pm)
Softball: Stansbury @ HHS (3:30 pm-4:30 pm)
Girls Volleyball Open Gym in Main Gym (5 pm-7 pm)
Hope Squad Gala in Commons (5 pm-10 pm)

April 29 

Track: Davis Invite
UHSAA Solo and Ensemble
Productions Company Rehearsals (8 am-5 pm)
Baseball in Fieldhouse (1 pm-3 pm)

May 1 

AP US Government and Politics in Aux (7:30 am-11:30 am)
Girls Golf: Region @ Remuda GC (9 am-4 pm)
AP Physics C Electricity and Magnetism in Counseling Center (11:30 am-3 pm)
AP Physics C Mechanics in Counseling Center (11:30 am-3 pm)
After School Credit Recovery in Presentation Rm (2:30 pm-4:30 pm)
Production Company Rehearsals (2:30 pm-7 pm)
Baseball Practice at Baseball Field (3 pm-5:30 pm)
Boys Tennis Practice at Tennis Courts (3 pm-5:30 pm)
Boys Volleyball Practice in Main Gym (3 pm-5 pm)
Cheer Weights in Weight Room (3 pm-4 pm)
Driving Range (3 pm-7 pm)
Softball Practice at Softball Field (3 pm-5:30 pm)
Track Practice at Track and Football Field (3 pm-5 pm)
Boys Soccer Practice at Soccer Field (3:30 pm-7:30 pm)
Boys Soccer: Soph HHS @ Park City (3:30 pm-4:30 pm)
Softball: Brighton @ HHS (3:30 pm-4:30 pm)
Spring Football at Football Field (3:30 pm-5:30 pm)
Cheer Practice at Fieldhouse (4 pm-5 pm)
Girls Volleyball Open Gym in Main Gym (5 pm-7 pm)
Girls Soccer Open Gym in Fieldhouse (6 pm-9 pm)
Soccer Team Dinner in Gallery (6:30 pm-9 pm)
Boys Basketball Open Gym in Main Gym (7 pm-9 pm)

May 2 

AP Calculus (AB/BC) in Aux (7:30am-11:30am)
Girls Golf: HHS vs Payson @ Canyon Hills GC (10 am-5 pm)
AP German in Counseling Center (11:30 am-3 pm)
After School Credit Recovery in Presentation Rm (2:30 pm-4:30 pm)
Production Company Rehearsals (2:30 pm-7 pm)
Boys Tennis Practice at Tennis Courts (3 pm-5:30 pm)
Baseball: Stansbury @ HHS (3:30 pm-4:30 pm)
Boys Soccer Practice at Soccer Field (3:30 pm-7:30 pm)
Softball: HHS @ Cedar Valley (3:30 pm-4:30 pm)
Track and Field: Region JV @ HHS (3:30 pm-4:30 pm)
Drill Parent Meeting in Presentation Room (5 pm-6:15 pm)

May 3 

AP English Literature and Composition in Hosting Rm (7:30 am-11:30 am)
AP European History in Hosting Rm (11:30 am-3 pm)
After School Credit Recovery Presentation Rm (2:30 pm-4:30 pm)
Production Company Rehearsals (2:30 pm-7 pm)
Baseball Practice at Baseball Field (3 pm-5:30 pm)
Boys Tennis Practice at Tennis Courts (3 pm-5:30 pm)
Boys Volleyball Practice in Main Gym (3 pm-4 pm)
Cheer Weights in Weight Room (3 pm-4 pm)
Softball Practice at Softball Field (3 pm-5:30 pm)
Track Practice at Track and Football Field (3 pm-5 pm)
Boys Soccer Practice at Soccer Field (3:30 pm-7:30 pm)
Boys Soccer: Cedar Valley @ HHS (3:30 pm-4:30 pm)
Spring Football at Football Field (3:30 pm-5:30 pm)
Cheer Practice in Fieldhouse (4 pm-5 pm)
LIA District Banquet in Cafeteria/Foyer (4:30 pm-8 pm)
Girls Volleyball Open Gym in Main Gym (5 pm-7 pm)
Boys Basketball Open Gym in Main Gym (7 pm-9 pm)
HHS School Flyers and Events